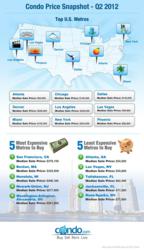 Miami, FL (PRWEB) October 11, 2012
eReal Estate Holdings LLC, operator of leading real estate portals Condo.com, Houses.com and Property.com today released second quarter condominium sales data of select markets across the U.S. The infographics released depict median sales prices of 9 metropolitan areas, and includes the 5 most expensive and least expensive metros to buy a condo in the country.
The data clearly shows that condo prices in these markets have increased, likely due to the continued decline in inventory and historic low mortgage interest rates. Median condo prices varied widely though, with San Francisco leading the way at $379,100, making it the most expensive metro to buy a condo.
"San Francisco is the most expensive metro in the county as buyers return to the City by the Bay in large numbers for jobs in the rapidly growing tech sector," said Richard Swerdlow, founder and CEO of eReal Estate Holdings. "Plus, bankers have loosened their credit a bit to help stimulate sales," he added.
Another area seeing a resurgence of condo sales is the D.C. / Arlington / Alexandria market. Prices for newly built condos in the D.C. area specifically, rose for the first time since 2005. Real estate professionals say that is a result of the decreasing number of condos "in the pipeline" – the lowest number of condos currently in development in nine years. Once again, inventory is shrinking as developers had halted or significantly reduced their building efforts over the past 4 years or so as the real estate market soured.
Meanwhile, on the other coast, condo buyers in Atlanta were paying a median sales price of $50,000, making it the least expensive metro on the list. Two of the other most affordable condo markets are also in the South – Tallahassee and Jacksonville. Miami's $104,400 median price puts it close to this list as well.
All of the median price increases in these areas are in line with what the rest of America's top metros are experiencing, according to the National Association of Realtors. In fact, prices in 50 metro areas have increased collectively more than 7% compared to the same timeframe in 2011. Still, the upward tic is not consistent across all areas, as 24 regions showed a decline in median sale prices - indicating that condo buyers must be selective by neighborhood within metro areas.
Overall, the infographics suggest a fundamental lesson with respect to condo price trends - A market that increasingly has fewer condos available for sale results in higher prices for most areas. However, there are condo markets across the U.S. where buyers can find a price point to meet almost any budget.
Read more here. The Condo.com infographics are also available for use on your site or blog free of charge.
About eReal Estate Holdings
eReal Estate Holdings LLC owns and / or operates the category-defining portals Condo.com, Houses.com, Property.com and Location.com. These real estate portals are the world's largest online marketplaces for real estate with more than 30 million properties for sale, rent and vacation in the United States and 70-plus countries around the world. The sites receive more than 1.5 million visitors per month, and cost-effectively deliver exposure and qualified leads to builders, real estate professionals and homeowners. In addition to property for sale and properties for rent, site visitors have access to a wide variety of real estate-related products and services, including mortgages, credit repair, home improvement, moving and more. Location.com will be launched in October 2012 in order to capitalize on the rapid growth of location-based advertising and search.
The privately held eReal Estate Holdings LLC is headquartered in Miami, Florida. For more information, please visit Condo.com (http://www.condo.com), Houses.com (http://www.houses.com), Property.com and Location.com.