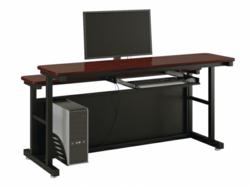 Los Angeles, CA (PRWEB) October 02, 2012
VersaTables, the leader in American-made classroom furniture, has added an innovative new computer table to its line of affordable furniture for universities, schools, and training facilities. The Fixed Height Split Level Classroom Table features a unique design that increases ergonomics and enhances learning by offering an unobstructed view of the front of the classroom. "The Split Level Classroom Table can really make a difference in the learning environment," explains Alex Del Toro, Online Director at VersaTables. "It has two separate surfaces. One is for writing and the other is designed for storage and for a computer monitor."
Available in five sizes, the Split Level Classroom Table is designed for one or two users. "Multi-user tables save a lot of space in a classroom," Del Toro says. "These types of tables are perfect for small computer labs, classrooms, and libraries where space is at a premium. They also cost less than buying two single-user tables. And that really helps out schools that are experiencing budgetary concerns."
The table was designed specifically for challenging environments like schools and is coated with a scratch-resistant laminate to prevent stains and scratches.
Like all of the classroom desks and tables manufactured by VersaTables, the Fixed Height Split Level Table ships for free and is made in the U.S. Quantity discounts are available starting with only three like products and the table can be customized with accessories to fit the specific needs of the buyer.
VersaTables is a leading furniture company that manufactures all furniture products in the United States, using only American-based raw-material vendors. VersaTables works with organizations such as the Sustainable Furnishings Council (SFC), U.S. Green Building Council (USGBC), and Business and Institutional Furniture Manufacturer's Association (BIFMA) to consistently maintain the highest standards of sustainability. In addition, all of the furniture and accessories VersaTables sells ships for free in the continental U.S., and comes with a Lifetime Guarantee.
For more information about VersaTables and the Fixed Height Split Level Classroom Table, or to browse through the company's line of affordable classroom furniture, visit http://www.versatables.com.