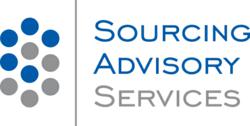 Dallas, Texas (PRWEB) October 03, 2012
Sourcing Advisory Services today announced that David McGee has joined the firm as Chairman and will guide the strategic direction of the firm. Mr. McGee, who has over twenty-seven years' experience serving multiple industries, will join the leadership team alongside the firms' founders and Managing Partners, Shaun Daly and Les Druitt.
"The addition of David McGee is instrumental to our continued growth and reflective of our commitment to build a values-based firm with a focus on facilitating healthy service relationships for our clients," Mr. Daly said. "David has deep roots in the formation and development of the sourcing advisory industry and has spent the last two decades building and managing successful businesses, making him the perfect executive to step into this role."
"We are very excited to welcome David to the SAS team," said Mr. Druitt. "I have known David for almost fifteen years as a friend and colleague and look forward to adding his unique leadership and vision to our very strong base of delivery capabilities."
Mr. McGee has served in multiple leadership roles throughout his career by running both private and public companies. He has served and supported many of the Global Fortune 50 corporations throughout his tenure and has operated throughout the world including the North American, Asia-Pacific, United Kingdom, and European regions.
Mr. McGee began his career with EDS (now HP), where he spent nearly nine years in finance, service delivery, and sales and marketing before joining TPI (now ISG) in 1994. Throughout his eleven-year career with TPI, Mr. McGee provided leadership in numerous capacities, including:

Led the effort to develop and document its sourcing transaction methodology, now an industry standard
Led the development of some of the largest and most complex services relationships throughout the global business community
Established and managed the operations of its Asia-Pacific regional practice
Established and led the operations of its Business Process Outsourcing (BPO) practice
"Les and Shaun have built a phenomenal foundation and produced amazing results in the short history of the firm," said Mr. McGee. "I am thrilled to join the SAS team and look forward to supporting our focus around three key aspects: continuing to build a team of experienced, values-led leaders, establishing stronger relationships with our current and future clients, and helping all our clients build healthy service relationships within their marketplace."
About Sourcing Advisory Services
Sourcing Advisory Services (SAS) provides expertise in information technology and business process sourcing, including shared services, outsourcing, insourcing, and offshoring. As leaders in the sourcing marketplace, our advisors, working alongside our client's team members, have successfully led clients through numerous relationship development projects and organizational change initiatives. Our methodology is designed to help facilitate the creation of a healthy service relationship between our client and service providers (either internal or external). Our deep background in sourcing strategy, grounding in years of actually operating sourcing environments and supporting the creation of service provider and client relationships, combined with our unique approach of leveraging service provider expertise to craft a relationship fit for client requirements, allows our clients to achieve healthier service relationships that meet their objectives. For more information, please visit http://www.sourcingadvisoryservices.com.