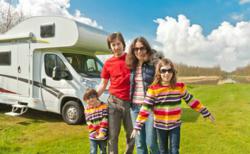 ...why spoil your weekend rolling around in a muddy tent, when you could be having the best weekend of your life, in a campervan?
(PRWEB) October 01, 2012
Glastonbury Festival is back in 2013 and tickets go on sale in October 2012. So, as the festival nears, get ready to order tickets and get sleeping accommodations in order. How good would it be to have your own cooking facilities, an ice cold fridge, a clean and private toilet and the most comfortable beds on the site?
The days when people said "You weren't a real Glastonbury Festival goer unless you stayed in a tent" are over. Sure there are still thousands of people every year under canvas at festivals, but there's a new trend happening now in the caravan and campervan field. There have always been campervans and caravans at the festival, usually belonging to people who already owned them. But now the growing trend is to hire a campervan to help get the most out of the festival.
A few years ago the only people staying in campervans were people who were old time festival goers who had now passed their 40th Birthday and couldn't handle a tent anymore. In more recent years, groups of young people have been hiring campervans to give them a secure base as well as somewhere to eat, sleep, cook, chill and probably most important of all – go to the toilet. Washing never used to be a priority in my festival years, but nowadays looking good is a real priority. People can now have their own private washroom, with hot and cold running water.
It is however not just a matter of turning up in a campervan and parking up and getting on with it. A campervan/caravan ticket must be purchased in advance to allow access into the designated area. Also it is a requirement that everybody entering must also be a weekend Festival ticket holder, which makes sense. The campervan/caravan area is the only place where ticket holders can sleep in their vehicles. Vehicles will only be allowed in the fields if they have living accommodation with fitted sleeping facilities and either fitted cooking or washing facilities.
Campervan passes usually sell out well before the Festival, so it's best to book early. Festival goers can order a campervan pass at the same time as they purchase their festival ticket. Tickets for Glastonbury 2013 will go on sale at 9am Sunday, October 7th 2012.
So how can attendees put this all together to ensure everything goes to plan? Well, Cambridgeshire based campervan hire company Motorholme has a solution. Andrew Hughes, owner of Motorholme explains, "We have been providing cheap campervan hire for Glastonbury Festival for years now, so we know exactly what problems you might come across. For example, you can reserve your campervan anytime and just pay a £99 deposit, if you are not fortunate enough to get a ticket, we will refund your deposit in full."
There are no electric hook ups in the campervan/caravan field, but this shouldn't be a problem either, Andrew explains, "All our vehicles have a 12 volt leisure battery which will keep your essential power going for the duration of the festival. When parked up the fridge can run on gas, so no problem keeping your beer cool. All cooking is done with gas too, so there's no electric needed there either. If anyone does require full 240 volt mains power we can supply the Efoy Fuel Cell which is a clean, eco-friendly, ethanol burning generator and is the only type of generator that is allowed on the campervan fields at Glastonbury."
There are probably thousands of folks who would only consider Glastonbury Festival under canvas to be the correct way to do it, but now there is another way of thinking about it:
A Glastonbury Festival ticket is not cheap, but it is great value considering that attendees get to see some of the greatest performers in The World at the best festival in The World; so why spoil the weekend rolling around in a muddy tent instead of a campervan?
The 2013 Glastonbury Festival of Contemporary Performing Arts opens on Wednesday June 26th and runs until Sunday 30th June. Reserve a campervan anytime before then by calling Motorholme on 0800 612 8719 or visiting http://www.campervansdirect.co.uk.