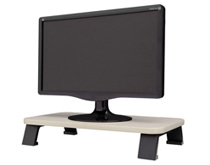 Los Angeles, CA (PRWEB) October 04, 2012
VersaTables, the leader in American-made computer furniture, has added an innovative new computer monitor stand to its line of affordable furniture for universities, work environments, and home offices. The Mesa Monitor Stand is a moveable shelf designed to raise any desktop computer monitor to the ergonomically appropriate height. "The Mesa Monitor Stand can really make a difference when it comes to increasing productivity and reducing neck strain," explains John-Paul Nelson, Director of Business Development at VersaTables. "It raises the monitor a full four inches above the desk or table's surface so the user can keep proper form when typing on the keyboard."
In addition to raising the monitor, the Mesa Monitor Stand allows up to 17.75" in horizontal space to slide the keyboard below the monitor for storage. "The stand is made from high density wood and recycled American steel so it's strong and durable," Nelson says. "It also comes in the same twelve color combinations that most of our desks and computer tables come in so customers can be sure it will match."
While the Mesa Stand was designed for computer users, the design lends itself to versatility. "You don't have to use it for a monitor if you don't need it for that purpose," Nelson explains. "It's a great platform that can be used as a shelf to enhance useable space on a filing pedestal or printer cart."
The Mesa Monitor Stand, like all of the furniture manufactured by VersaTables, ships for free and is made in the U.S. Quantity discounts are available starting with only three like products. VersaTables also offers a lifetime guarantee against any manufacturer defect.
VersaTables is a leading furniture company that manufactures all furniture products in the United States, using only American-based raw-material vendors. VersaTables works with organizations such as the Sustainable Furnishings Council (SFC), U.S. Green Building Council (USGBC), and Business and Institutional Furniture Manufacturer's Association (BIFMA) to consistently maintain the highest standards of sustainability. In addition, all of the furniture and accessories VersaTables sells ships for free in the continental U.S., and comes with a Lifetime Guarantee.
For more information about VersaTables and the Mesa Monitor Stand, or to browse through the company's line of affordable computer furniture, visit http://www.versatables.com.