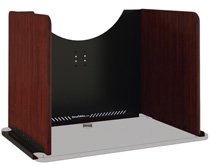 Los Angeles, CA (PRWEB) October 09, 2012
VersaTables, the leader in American-made computer furniture, has added three new products to its line of affordable furniture for universities, work environments, and home offices. The Study Carrel is a 24" tall high-density wood divider that attaches to almost any desk to afford the user privacy. With a steel back and VESA monitor mount, a computer monitor can be mounted directly to the back of the carrel, increasing usable desktop or table space. "The Study Carrel is a simple add-on that gives the user a more personal workspace while also limiting distractions," explains John-Paul Nelson, Director of Business Development at VersaTables. "It's perfect for testing facilities, computer labs, work environments, classrooms, and any place where there is foot traffic that could distract the user. It also gives the user three walls to post notes, calendars, and that type of thing to keep those items off the desk."
With scratch-resistant, laminated side panels and surface, the Study Carrel is ideal for rugged or challenging environments. The Studyy Carrel can be purchased individually, or with the VersaTables best-selling Basic Computer Table or Enclosed Computer Desk. It is available in eight attractive color combinations, and matches most of the customizable desks and tables that the company sells.
The Study Carrel, the Basic Computer Desk with Study Carrel, and the Enclosed Computer Desk with Study Carrel all ship for free and are made in the U.S. Quantity discounts are available starting with only three like products. VersaTables also offers a lifetime guarantee against any manufacturer defect on all of these products. "The great thing about our privacy carrel is that it's removable. Use it when you need it, and if you no longer do, you can easily mount it on a different desk or table," says Nelson.
VersaTables is a leading furniture company that manufactures all furniture products in the United States, using only American-based raw-material vendors. VersaTables works with organizations such as the Sustainable Furnishings Council (SFC), U.S. Green Building Council (USGBC), and Business and Institutional Furniture Manufacturer's Association (BIFMA) to consistently maintain the highest standards of sustainability. In addition, all of the furniture and accessories VersaTables sells ships for free in the continental U.S.
For more information about VersaTables and the innovative study Carrel, or to browse through the company's line of affordable computer furniture, visit http://www.versatables.com.