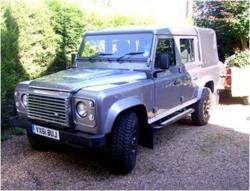 (PRWEB UK) 1 October 2012
It's unmistakeably a Land Rover. If you were driving a 110 in 1983 when the model was introduced, many would be hard pressed to notice too great a difference in the 2012 model-year version.
But in fairness, improvements have been made since 2007 and they are more than just superficial, transforming the Defender's on-road refinement and comfort. The new facia is based on a single, large moulding, supported on a steel rail said to help eliminate squeaks and rattles. The instrumentation has been improved with clear, concise information for the driver, and details such as all-LED illumination.
Nevertheless, with the exception of the new heater and ventilation controls, the switchgear would be familiar to the driver of a 1983 model. The heating and ventilation system itself has been greatly improved and employs aluminium plate-and-fin heat exchangers.
Also on the plus side, the new interior provides versatile stowage shelves for both driver and front passenger. Two console options are available: a practical open-tray design that keeps contents to hand and a large, lidded design offering 14 litres of stowage.
Cabin comfort has been greatly improved, too, with tall front seats and robust, supportive second row seats. Three occupants can be accommodated on the asymmetrically split second row. A spring-assisted mechanism helps when folding the seats for carrying large or awkward loads.
Seat trims include durable all-vinyl and cloth specifications; a half-leather option is also included in the XS specification available on Station Wagon and 110 Double Cab Pick-Up derivatives to add a touch of luxury to the cabin. Three-point safety belts are specified for all seating positions.
A new EU5 2.2-litre diesel engine replaced the EU4 2.4-litre diesel in 2011, bringing greater levels of performance and refinement to the 2012 Defender. Despite its smaller capacity, the engine delivers the same power, torque and economy as the unit it replaced, but makes this the cleanest Land Rover Defender yet produced. In EU5 markets, the new engine comes with a diesel particulate filter (DPF) to ensure the lowest possible levels of regulated emissions.
With 360Nm of torque, it has plenty of oomph, despite the Defender having the aerodynamics of a house brick. And for vehicle with beam axles on long-travel coil suspension it handles remarkably well.
It's an enduring product that also has a certain individual cachet about it. Unlike some 4x4 pick-ups, it oozes ruggedness. But why would somebody want one for their business, one might ask.
The cargo tray on the 110 Double-Cab test model is fairly small with a load length of 1,020mm (40.8in). The space is hampered by the spare wheel. The largest box size dimensions it can accept are 690mm (27.2in) in length and a width of 800mm (31.5in), which is too small for a standard Euro pallet. Payload is good though, at 1,400kg.
In practical terms, some of Land Rover's biggest customers are utility companies with a real need for the ability to get off the beaten track and back, so if it's off-road capability you require above all, then the Land Rover is a good prospect.
It's long-travel suspension and dual-range transmission with deep low-end gearing give it impressive performance away from paved roads, especially when fitted with the optional Goodyear Wrangler mud-pattern tyres.
Two options packs are available: the Comfort Pack provides air conditioning, CD Player with auxiliary input, electric windows and remote central locking and costs £1,650; the Off-Road Pack provides ABS, heavy-duty rim and mud-terrain tyres, tow ball and under-ride protection bar and costs £1,500.
The Highs
Serious off-road capability
Six-speed gearbox with high top gear for cruising and deep low transmission for crawling capability over difficult terrain
Improved interior enhances passenger and driver comfort and drivability
Rugged looks turn heads and underline its off-road credibility
The Lows ?
Fuel consumption
Limited load area
Still has an 'agricultural' feel about it
Business Vans verdict
If the drivers business van requirements demand competent off-road ability, then the Land Rover Defender is a serious prospect. The interior improvements make it much easier to live with than earlier models, although certain aspects retain a decidedly 'agricultural' feel.
Keep up to date with developments in our Business Van News section.
What people need to know
On the road price (with optional extras as tested) ex VAT: £29,495
Load length: 1,020mm
Load width: 800mm
Load height: 1,160mm
Load capacity: n/a
GVW: 3,500kg
Towing capacity braked/unbraked: 3,500kg/750kg
Engine: 2,198cc 4-cyl diesel
Power/Torque: 122.4hp/360Nm
Economy (combined): 25.5mpg
CO2 emissions: 295g/km