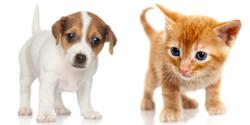 (PRWEB UK) 2 October 2012
While many pet owners choose to leave pets in a kennel or with relatives while on vacation or holiday, there are some instances when taking a family pet just makes more sense. While placing a pet on an airplane may seem daunting and difficult, it is in fact neither. Protect your bubble shares tips and advise to consider before rushing out and booking a plane ticket The number one thing above all else is which travel method is best for your pet. The answer comes in three different ways, and each depends on the size of the animal.
1. Pets as Carry-On
If the pet is small enough, the pet-parent may choose to bring the pet into the cabin as a carry on bag. As long as the pet fits into the area in front of the seat, the pet and passenger are good to go.
2. Pets as Checked Baggage
Many planes have temperature and pressurized environments specifically for pets. Contact the airline about regulations and restrictions before booking the pet parent's flight.
3. Pets as Cargo
Pets can be shipped as cargo on domestic and international flights without a pet parent. There are certain regulations that apply so check with each individual airline for additional information.
Once the method and airline are chosen, there are a few things to consider for the pet's safety and comfort. This will make the trip better for everyone involved as well.
Be certain that the pet is comfortable with the crate well before flying.
If travelling as cargo or checked baggage, remove the leash and muzzle. Send a block of ice attached to the kennel for water and a food supply also attached to the kennel.
Place a pet pad in the bottom of the kennel before travel. Be sure your pet goes as well.
Label the crate clearly and legibly with the parent's name, contact information and flight information.
Take the pet for a check-up with a licensed vet before departing; get all shots up to date.
Air travel is stressful on pets and pet parents, so it is important for pets to be in top physical condition. Protect Your Bubble offers pet insurance with coverage options that include wellness visits. Protect Your Bubble's pet insurance is great for the travelling family pet. Visit Protect your bubble for additional information.
About Protect your bubble UK
Backed by a Fortune 500 company, Protect your bubble is the UK's largest specialist gadget insurer that also offers a wide range of insurance products, pet insurance, car hire excess insurance, travel insurance and bicycle insurance ; all at exceptional value prices.
Related Links:
Pet Insurance - uk.protectyourbubble.com/pet-insurance/
Cat Insurance - uk.protectyourbubble.com/cat-insurance.html
Dog Insurance - uk.protectyourbubble.com/dog-insurance.html
Find Us On:
Facebook: facebook.com/ProtectYourBubble
Twitter: twitter.com/protectyrbubble
YouTube: youtube.com/user/protectyourbubble