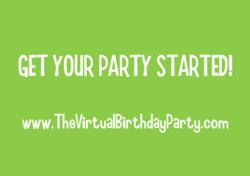 Wow! My wife surprised me with a virtual birthday party. She invited all of our family and friends to participate. On my birthday, I laughed and cried as I read through the 50+ birthday messages. It made my birthday extra special. Thank you, TVBP!
Phoenix, AZ (PRWEB) October 03, 2012
The web makes it easy to do virtually anything, right? In fact, thanks to the recent launch of TheVirtualBirthdayParty.com, it is now possible to "host" and "attend" a virtual birthday party from anywhere in the world.
"It's a smashing hit! We've had virtual birthday parties for 1 year olds to 90 year olds. It's especially meaningful for people who have friends and families scattered across the world, but still want to "gather" people to one place to celebrate a special or milestone birthday" says Ms. Wendy Carson, one of the creators.
TheVirtualBirthdayParty.com works in a remarkably simple way. A self-designated "host" (which could be the birthday person) chooses a themed party template, writes a host message, uploads photos, and invites "guests" to join in through email. Guests are encouraged to leave special birthday messages as directed by the host.
The virtual birthday party template is flexible, allowing the hosts to provide direction to their guests. For example, hosts often ask their attendees to leave "words of wisdom" or "famous quotes" or even "old stories from the past" for the birthday person. Customization is up to the imagination of the host and the circumstances of the situation.
During the virtual party, all birthday messages are available for the attendees to preview. And after the party, a hard copy of the birthday messages may be saved and printed as a birthday keepsake, leaving a lasting impression on the birthday person.
Hosting a Virtual Birthday Party is just $29.95. Guests pay nothing to leave messages. For this price, everyone gets to participate, and the birthday person enjoys all the well wishes of loved ones from around the world, plus a printable and savable keepsake to enjoy for years to come.
For more information, visit TheVirtualBirthdayParty.com.
About The Virtual Birthday Party, Inc.
The Virtual Birthday Party, Inc. is a privately held company based in the United States. The owners created the site as a solution to the need of a "virtual gathering place" for family and friends to celebrate a special person's birthday. As a community-minded company, The Virtual Birthday Party, Inc. pledges 7 percent of its profits to community-based non-profit organizations.