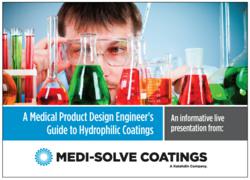 "We are thrilled to present the first in a series of webinars and events on hydrophilic coating,"
Needham, MA (PRWEB) October 23, 2012
Medi-Solve Coatings, LLC announces a live webinar for medical product design engineers on November 8th. Medical devices are being required to reach ever more distal areas of the body. Hydrophilic coatings are a key component in helping gain this access and have quickly become an essential tool in the design engineer's toolbox. This presentation will give the audience a complete understanding of these coatings, and why it is a competitive advantage in today's marketplace.
The webinar will be presented by Mr. Art Madenjian, Vice President of Techincal Sales, and Dr. Ron Sahatjian, Chief Technology Officer of Medi-Solve Coatings LLC. "We are thrilled to present the first in a series of webinars and events on hydrophilic coating," according to Art Madenjian. The webinar will include topics such as coating chemistries – challenges in coatings, coating options, comparing internal and external coatings, and ways of creating coatings on only selected areas of a product. Quintessentially, this webinar will serve as a fundamental guide for understanding characteristics of hydrophilic coatings. For detail information and to register for the webinar visit http://www.medisolvecoatings.com/webinar .
Medi-Solve Coatings is the only supplier of license free custom formulated hydrophilic coatings for medical device and biomedical applications. As highly regarded coatings experts, with over 40 years of industry experience, Medi-Solve Coatings uses its in-depth understanding of medical device requirements to develop innovative solutions for its customers. Medi-Solve Coatings is dedicated to assisting customers from product design through commercial scale manufacturing.
Medi-Solve Coatings is a Katahdin Company. Katahdin Industries, Inc. (katahdin-inc.com) provides high tolerance coating applications and specialized metal finishing technology and services to the medical device and highly engineered components markets through platform-focused subsidiaries. Katahdin's coating operations are conducted through Precision Coating Co. Inc., a leading provider of customized Teflon®, PTFE and related fluorocarbon coating needs of the medical device and the highly engineered market place. Precision Fabric is a worldwide distributor and converter of Teflon® coated fabrics, tapes and belts. Specialized metal finishing services are conducted through DCHN,LLC, an industry leader in technical aluminum and titanium anodizing, electropolishing and passivation, and other related services. Sanford Process Corp. provides hard coat anodizing solutions and intellectual property to a range of well-known OEM's and their prime subcontractors worldwide, with an increasing presence in Korea and China.