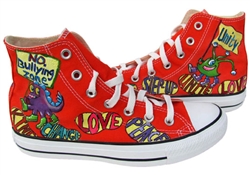 We at The Swanx wanted to support a noteworthy cause that impacts youth around the country. The PACER's non-profit organization was the perfect place to start. We are proud to support both the cause and the organization.
Puyallup, WA (PRWEB) October 08, 2012
The Swanx hand-painted footwear company was founded in 2008 by a husband and wife team who discovered an untapped niche in the shoe market. Since that November day, The Swanx Company has employed dozens of artists, has created thousands of designs and has sold thousands more pairs of hand-painted shoes, including custom created designs by request. Some of those have consisted of dogs, cats, horses, birds, blue '57 Chevy flames, bride and groom pairs, bridal party gifts, a pregnant mermaid, hospital company logos, police and fire themes, and camouflage themes for the various military branches.
Just last month, The Swanx company partnered with PACER's National Bullying Prevention Center and has created a line of bully prevention awareness shoes to support PACER's efforts in bully prevention. The Swanx had the opportunity to work directly with students in Leslie Armstrong's art class at Kentwood High School in Kent, Washington. They were chosen to participate in a fun and educational contest that yielded the three prize-winning designs. Two of those designs will be painted and sold on The Swanx website. Part of the proceeds of these and all shoes sold on The Swanx website for the month of October will be donated to this worthy organization. October is National Bullying Prevention Month.
Grand prize winner and high school student Haley Larson received a gift certificate to a local restaurant, a pair of Chuck Taylor All-Star Converse with her design hand-painted by a local Swanx artist and an exclusive bully prevention hooded sweatshirt featuring her design. In addition, $5 of every sale of her "Break the Chain" shoe design will be donated to the Kentwood High School art department in her name. Student Riana Slyder's footprints design was also selected, modified to include cute "bully prevention" monsters, and will also be for sale on The Swanx website.
Bullying is an international problem that plagues youth of all ages and is equally rampant on the internet. Riana Slyder said, "I've seen it happen, I tried to take a stand and that's what my shoes are all about."
When asked why he wanted to take this project on, Swanx owner Curtis said, "We wanted to support a noteworthy cause that impacts youth around the country. The PACER's non-profit organization was the perfect place to start. The Swanx is proud to support both the cause and the organization." You can view the entire Swanx collection by visiting http://www.TheSwanx.com