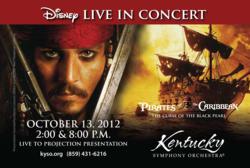 This KSO program is rated Arrgghh! for mateys of all ages.
Florence, KY (PRWEB) October 03, 2012
The Kentucky Symphony Orchestra opens its 21st season with a film take-off on a theme park ride. The first film in Disney's three billion dollar franchise Pirates of the Caribbean — "The Curse of the Black Pearl" gets a live-orchestral presentation as the KSO plays the entire Klaus Badelt / Hans Zimmer film score live as the film is projected on the big screen. Johnny Depp, Orlando Bloom and cast headline the movie in which scenes from the Disney theme park ride are given a swashbuckling cinematic treatment.
The KSO is bringing in the Coolux Pandora system server and high end projectors to ensure a definitive video quality, which will also link with the house audio system for dialogue and sound effects. The score is synchronized by the conductor who watches a monitor with the film, and various digital read outs that include time counters, measure numbers, etc. It is ultimately the conductor who must study at length both the movie and score to be able to communicate accurate tempi and cues to the orchestra and chorus throughout the 2 hour and 23 minute film.
If Mozart or Wagner were composing today, film scores would most likely be the genre for which they would be writing. The live to projection presentation proves how the action and the music are inseperable, and how much the score enhances the cinematography.
Join Music Director James Cassidy for the opening of the KSO's 21st season, Saturday, October 13 at 2:00 p.m. and 8:00 p.m. at the Florence Baptist Church at Mt. Zion. Tickets are $40, 32, 24 with children 6-18 receiving 50% off all sections. (Tickets for this presentation around the country have been going for $65). For more info and tickets call the KSO at (859) 431-6216 or visit http://www.kyso.org
When you visit the KSO website, sign up for the raffle for a 7-day crewed yacht sailing vacation through the British Virgin Islands offered by The Moorings.