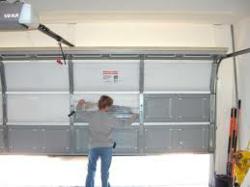 The Big Rock Garage Door Company isn't a brand-new business in Calgary, but they are growing rapidly due to their straightforward and honest approach to an industry needs such an approach badly.
(PRWEB) October 03, 2012
Like every city, Calgary has its share of garage door repair companies, but not all of them are providing a high-quality service for their clients. In fact, there have been a lot of complaints about these types of services, as many outfits are overcharging their customers, providing slipshod work and ignoring their client's feedback.
Global News recently reported an incident in which a local company was caught charging double the going rate for a simple fix. After receiving a bill for $800, homeowner Bill Hodge began to acquire quotes from other garage door repair companies, hoping to find out whether or not the price he was getting was reasonable. After speaking to a number of different businesses throughout the city, he discovered that the average quote for the same job was around $350 and he had been taken for a ride. Bill's story is not atypical, however.
This has been a source of ongoing frustration for any Calgarian who has encountered garage door troubles in the past few years. They're looking for a service that will do prompt, efficient and thorough work at a reasonable price and they're typically finding companies that are charging double the going rate, passing it off as an inexpensive fix, and going on their way.
Because garage doors tend to stay in good working order for such a long time, it's not unusual for a client to be uninformed as to how much a typical repair job should cost, and what the prevailing standard of work is in their area. This makes the garage door repair business an easy candidate for predatory businesses looking to put in the minimum effort and take the maximum amount of compensation.
Although the Better Business Bureau does their best to catalogue instances of abuse, and file customer complaints, following up with local businesses to get their side of the story, many clients of these companies are unsuspecting, they have no reason to believe that their Calgary garage door repair company isn't going to do a good job, and they go into the transaction with their guard down.
Thankfully there is one garage door repair service in Calgary that is looking to change all of this. The Big Rock Garage Door Company isn't a brand-new business in Calgary, but they as of this week they are offering a brand-new guarantee on parts and labour for one year, to provide their customers with peace of mind and to ensure that if anyone feel they haven't gotten the best from this company they will always have a way of making their concerns known.
The Big Rock philosophy is simple. They aim to bring a reliable repair service that's quick, efficient and gets your garage door back in working order, and they do it all for an affordable price. Although Big Rock Garage Door Company has not explicitly stated an intention to change the culture of garage door repair services in the Calgary area, this satisfaction guarantee, a recent addition to the business, has given Calgarians the ability to make a secure choice when looking to repair their garage doors, and has changed the way that people are viewing this industry.
This is an offering that many Calgarians wish they would have had after working with other local services. In the end, Big Rock's presence on the scene is a welcome change for a lot of Calgarians with garage door issues.