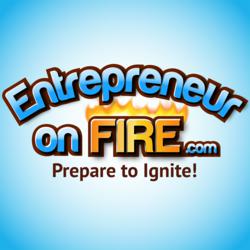 The Mission of EntrepreneurOnFire.com is to Inspire Millions.
(PRWEB) October 03, 2012
http://www.EntrepreneurOnFire.com launched on September 21, 2012, when it broadcasted the first of hundreds of interviews with today's most inspiring entrepreneurs. John Dumas, founder, started EntrepreneurOnFire.com in June of 2012 to create a podcast that would help millions find the inspiration and courage they need to pursue their own dreams through the journeys' of current, successful entrepreneurs. In its first week, EntrepreneurOnFire.com climbed to the top ranking of Business podcasts in iTunes, with over 20,000 downloads.
Subscribe to EntrepreneurOnFire's podcast:
Being an avid listener of podcasts himself, such as the Wall Street Journal and APM Marketplace, is what started Dumas' own journey down the road to entrepreneurship. Dumas fell in love with podcasting when he discovered a medium that provided access on a large scale to targeted passions, with no commercials and at no cost. When Dumas found himself diving deeper into the world of privately produced podcasts, he was drawn to episodes of interviews with entrepreneurs – those mythical beings. When it became a waiting game for when the next episode would come out, Dumas realized that if he desired a more frequently produced podcast, there must be others out there with the same desires. Then, EntrepreneurOnFire.com was born. Dumas quotes, "Over the course of a few short months, I immersed myself in my new venture, and the more research I did, the larger my passion grew. Suddenly, and for the first time in my life, I knew with 100% conviction what I wanted to do: Create a podcast interviewing inspiring entrepreneurs, with the goal of encouraging millions to make their Entrepreneurial leap."
Once Dumas had his own aha moment, the rest was history. He hit the ground running June, 2012 and hasn't looked back since: "The mission of EntrepreneurOnFire.com is to inspire millions." Attending conferences, networking events and talks, where entrepreneurial journeys and a love for inspiration are shared, take up a lot of Dumas' time. But when he's not attending events, you can find him in the loft of his three story condo in the heart of the Old Port in Portland, Maine, interviewing the likes of Chris Brogan, Michael Hyatt, Amy Porterfield, Pat Flynn and Mike Stelzner, to name a few; or, researching ways to make his resources and elite mastermind group, Ignite, more relevant for his community.
You can download episodes via iTunes (http://bit.ly/RX3yMa) or Stitcher Radio, or visit http://entrepreneuronfire.com to stream straight from the website. To learn more about EntrepreneurOnFire.com and all the products, services and resources available, visit the website today.
About John Dumas
Born and raised in southern Maine, Dumas left at age 18 to study at Providence College. He joined ROTC to pay his way through school, and at 22 graduated and was commissioned as 2nd lieutenant in the US Army. An Army officer for 4 years, stationed at no less than 5 duty stations, Dumas also served a 13-month tour of duty in Iraq. At age 26 he entered the reserves as a Captain and spent time traveling through Guatemala, India and Nepal. After living in major US cities like New York and Boston, Dumas returned to the great state of Maine at age 31.