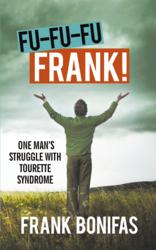 Tourette Syndrome isn't a disease, a disability or a malfunction. Its a way of life for me and thousands of other people... this is our story.
Columbus, OH (PRWEB) October 03, 2012
How would it feel growing up with a body and a mind that you knew were far from normal? What if sometimes you couldn't control what you said or how you moved? And worst of all, what if nobody could tell you why?
These questions were a daily reality for Frank Bonifas, who developed an extreme form of Tourette Syndrome before the disease was even recognized as a physiological ailment. Now, Bonifas' story, and the struggles he shares with TS sufferers around the world, is ready to be told.
FU-FU-FU-FRANK! is the touching memoir of one man's lifelong struggle with Tourettes. This powerful story will take readers on an emotional journey through Bonifas' life, prompting equal parts tears and laughter as audiences gain a better understanding of TS.
Bonifas' upfront writing style, paired with a courageous willingness to talk about the challenges of growing up and living with his particularly severe tics, allows readers an unprecedented and dramatic perspective into the world of Tourettes.
"I wrote this book because the real story of Tourette Syndrome needed to be shared", says Bonifas. "My hope is that readers will gain a real understanding of the challenges faced by those afflicted with TS and that they can truly learn to appreciate our struggle."
For more information, visit http://bookstore.authorhouse.com.
FU-FU-FU-FRANK!
By Frank Bonifas
ISBN: 978-1-4520-6802-2
Softcover, retail price: $15.00
E-book price: $9.99
About the author
Frank Bonifas inherited Tourette Syndrome before the disease was recognized in the United States and spent a large part of his life not knowing why his violent tics, obsessions, and learning disabilities were present. He has written his story not only to spread the awareness of TS, but also to offer encouragement to anyone afflicted with it. Frank is 56 years old and resides in Coldwater, Ohio.
# # #