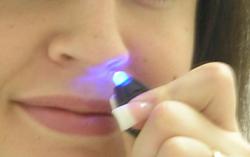 Having demonstrated photo-oxidation produces sufficient amounts of hydrogen peroxide to kill bacteria on skin has important implications for the prevention of air-borne diseases.
Fort Myers, FL (PRWEB) October 15, 2012
Matt McGuire's task for UV Technologies was to show the hydrogen peroxide produced through photo-oxidation is capable of killing bacteria present on skin. For the experiment, skin inside nasal passages, ear canals, and hands were exposed to the equivalent of a few seconds of natural daylight. Bacterial samples were taken before and after each exposure and were compared after a week incubation period. The results showed significant differences in the bacterial colonies on a repeatable basis. Matt's adviser, Dr. Cindy Dunn, author of the clinical reference book, "Protecting Study Volunteers" calls the research results, "Exciting."
The discovery has promising implications regarding the cause and prevention of colds, flu, sinus, and ear infections. Most air-borne diseases enter the body through the ear, nose, and throat. During summer months most people get enough sunlight to help them kill germs naturally using their body's own immune system. During the winter months the amount of available sunlight diminishes and consequently the incidence of colds, flu and infections increase significantly.
According to Mark Fendrick, M.D., lead author on the paper and co-director of the Consortium for Health Outcomes, Innovation, Cost Effectiveness Studies (CHOICES) at University of Michigan Medical Center, "A cold is the most commonly occurring illness in humans, so it was no surprise that there are approximately 500 million colds each year in the U.S…We found that the common cold leads to more than 100 million physician visits annually at a conservative cost estimate of $7.7 billion per year" Adding to this figure the costs of lost productivity and medications along with related costs of flu, ear, and sinus infections, the potential savings exceed $200 billion per year.
UV Technologies sells UV-Aid® a lighting supplement that utilizes photo-oxidation technology. After two years on the market, UV Technologies reports 100% customer satisfaction. The company's website http://www.uvaid.com, and facebook page with over 5,000 fans, provides more information along with feedback from UV-Aid users.
One UV-Aid costumer writes," Our morning routine (for my children who are in public school) includes a healthy breakfast, vitamins and supplements, dressed, teeth brushed, and UV-Aid in the ears nose and throat." In the future, using UV-Aid to kill germs in the ears and nose could become as common as washing your hands. If so, future doctors like Matt McGuire may need to treat fewer cases of colds, flu, and infections saving time, money, and suffering..
About UV Technology, LLC:
UV Technologies, LLC's mission is to provide the best and most innovative products for customers' health and well-being. Our company takes great pride in its commitment to customer service and in the products we sell. UV-Aid helps prevent colds, flu, sore throats, sinus, and ear infections through the process of photo-oxidation. iTanSmart is a free App. developed to help manage exposure to the sun. UV Technologies promises to bring you the safest and most innovative products to live a healthier, more productive life. UV Technologies is a member of the Better Business Bureau. Visit http://www.uvaid.com for more information.