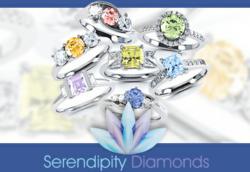 We are delighted to welcome Serendipity Diamonds as one of our new retail jewellers offering Pay4Later finance. We have been working with Serendipity Diamonds to enable them to provide a range of comprehensive finance products to new and existing clients
Ryde, UK (PRWEB UK) 4 October 2012
Extending their range of jewellery services, diamond engagement ring and wedding ring specialist Serendipity Diamonds has teamed up with Pay4Later to introduce a range of finance options to help with the purchase of online diamond jewellery, including 0% interest free credit.
"We thought long and hard about how we could compliment existing services to help with the expense of a proposal or wedding. The current economic climate has made life difficult for anyone making such an expensive purchase, so any help we can offer with finance will ensure that a couple can commission the exact rings they want," said Mark Johnson, Managing Director of Serendipity Diamonds.
"We are delighted to welcome Serendipity Diamonds as one of our new retail jewellers offering Pay4Later finance. We have been working with Serendipity Diamonds to enable them to provide a range of comprehensive finance products to new and existing clients," said Robin Farmer of Pay4Later Ltd.
In times of economic turmoil, it is a well known fact that there is an increase in the number of proposals and weddings, as couples strive for the stability and security that the economy simply cannot deliver. Couples cannot simply put their lives on hold until things improve. There was a noticeable rise in the amount of marriages in England and Wales from 232,443 to 241,100 between 2009 and 2010 as indicated by the Office of National Statistics in their most recent figures.
To help with the cost of the wedding day Serendipity Diamonds will be giving away free diamond jewellery and wedding rings, starting with a free diamond and sapphire pendant this month.
To learn more about Pay4Later finance at Serendipity Diamonds, visit http://www.serendipitydiamonds.co.uk
About Serendipity Diamonds
Founded in 2006, Serendipity Diamonds was started by Mark Johnson, as an online diamond specialist, creating quality diamond set jewellery with focus on dedicated personal service. The business operates from their premises on the Isle of Wight, where appointments are offered at their Ryde based showroom.