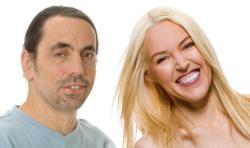 Kundalini Yoga is known for it's comprehensive benefits of self-healing, inspiration, self-growth, and Spiritual awakening. It's the energy of life itself. The workshops will spark Spirit , regenerate, celebrate, and blossom! - Ana Brett & Ravi Singh
Eagan, Minnesota (PRWEB) October 02, 2012
Celebrity Kundalini Yoga teachers Ana Brett and Ravi Singh will be coming back to Minnesota in October for an exciting weekend of workshops that will energize the core and enliven both body and soul.
The internationally-known teaching duo will be at YogaSoul Center in Eagan teaching four workshops on Oct. 12, 13 and 14. All levels are welcome at these events.
In the first workshop, "Navel Power: The Indispensable Ingredient for a Life Well Lived," students will explore and strengthen the navel center, or the third chakra. This event takes place Friday, Oct. 12, from 6:30 p.m. to 8 p.m. Cost is $35.
The next day, Ana and Ravi will teach "Solar Power: Crossing Over to an Open Heart." In this workshop, they will present Kundalini Yoga exercises and meditations to activate the solar plexus and balance energy on all levels. The class costs $45, and will be given on Saturday, Oct. 13, from 10 a.m. to 12 p.m.
That afternoon they will teach a workshop called "Warrior Workout: Greatness Unlimited!" This aerobic class will help students eliminate toxins and improve circulation to foster the spiritual warrior within each and every yogi. The event costs $45 and takes place from 2:30 p.m. to 4:30 p.m.
On Sunday, the duo will be back to teach "The Soul Swan's Journey: Creative Meditation." This session will feature powerful and profound meditation techniques which you can use to clarify and beautify your life. Ana and Ravi will show students how to meditate using both sides of the brain simultaneously. Focused attention to detail and proper execution will bring the left brain into action, while personalizing our practice and using our creativity to provide meaning and depth will stimulate the right brain. The result will be a beautiful balance. This workshop is 70 percent meditative and 30 percent physical.
Pre-registration is required for all the workshops. Workshops can be attended individually for prices listed above, or students can buy access to the entire weekend for $129.
To register visit the YogaSoul website yogasoul-center.com or call 651-452-5789.
Ana and Ravi have authored 22 DVDs and a soon-to-be published book, "The Kundalini Yoga Book." They have trained more than 300 practicing kundalini yoga teachers. Their clients have included Olympic athletes and people from all walks of life. They travel extensively teaching workshops, conferences and retreats worldwide. Their approach is powerful, inspiring, moving, and fun. Recently, the Biggest Loser's Jillian Michaels cited them as her favorite yoga teachers.
The expert trainers will be back to YogaSoul in November for an extraordinary 200-hour, eight-month-long Kundalini Yoga Teacher Training program, which is certified by Yoga Alliance. For more information on the program, e-mail YogaSoul at kytt (at) yogasoul-center (dot) com or call 651-452-5789.
YogaSoul's mission is to help clients win the battle against stress. It has an extensive class offering in several styles of yoga, including Kundalini, Hatha, Yin, and Vinyasa. It boasts a fully equipped Pilates studio and offers many kinds of classes, including Zumba, Tai Chi and belly dancing. Its full roster of teachers and healers provide clients with a variety of healing services, including intuitive readings, Reiki, Thai yoga bodywork, Ayurveda, energy work and several others. YogaSoul also hosts special workshops and Kundalini yoga teacher trainings.
To see a full schedule, make an appointment with a healer or sign up for a class, visit YogaSoul's
website, http://yogasoul-center.com/. New students get their first week of classes free.
###