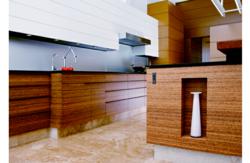 "[Durapalm] is one of those things that everyone wants to touch. They also all want to hear the story of where it comes from."
San Francisco, CA (PRWEB) October 03, 2012
It was no small task to make the kitchen of this 2,150-sq.ft. home appear larger without expanding the physical footprint, but Michael Bright, of Bright Wood Works, Inc. designed it with award-winning flair. He took cues from the existing space and delivered a solution with style and an eco-friendly edge.
Using Smith & Fong® Durapalm® Edge Grain Coconut Palm, Bright creates a warm earthy appearance that supports the natural palette of materials selected for this project. Paired with Richlite counter tops, the aesthetic is streamlined and contemporary. "It's so easy for minimalism to become cold," said Bright. "So we chose our materials carefully in order to counterbalance that." Speaking of the coconut palm paneling, Bright remarks: "It's one of those things that everyone wants to touch. They also all want to hear the story of where it comes from."
Durapalm is manufactured by Smith & Fong from reclaimed plantation-grown coconut palm trees that have past their fruit bearing years. Our plywood is made from 100% coconut or sugar palm with no added formaldehyde. Durapalm is easy machine and can be used for paneling, flooring, fixtures, furniture and cabinetry.
Smith & Fong Plyboo has become the most recognizable and respected name in bamboo flooring since the company's inception in 1989. Headquartered in San Francisco, Smith and Fong bamboo products were the first to attain FSC certification and the company continues to push the industry forward in sustainable forestry, product innovation and .