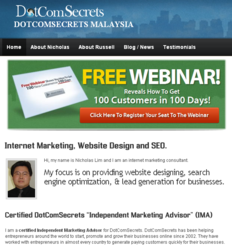 "Things don't happen. Things are made to happen." J.F.Kennedy
(PRWEB) October 03, 2012
Nicholas Joseph Lim announces launch of DotComSecrets Malaysia in Kuala Lumpur in association with world renowned marketing expert and author: Russell Brunson.
Dovetanet Marketing announced today the launch of DotComSecrets Malaysia. DotComSecrets, Inc. based in Boise, ID is a world renowned internet tactics and strategy company headed by marketing guru and author Russell Brunson. The company is expanding into hundreds of worldwide markets.
Brunson has named Nicholas Joseph Lim as Internet Marketing Advisor for the city of Kuala Lumpur.
Nicholas has licensed the use of the DotComSecrets logos, images and confidential internet marketing platforms to help local businesses increase their online and offline business using the latest internet marketing tactics proven to get local businesses Google page one rankings and increased sales.
Nicholas said about the new business, "I'm incredibly honored to be named the IMA for the city of Kuala Lumpur. It's an incredible opportunity to deliver proven online services to the great groups of varied SME businesses we have here in Kuala Lumpur. In addition to our online marketing services, we'll also offer website development, text message marketing, Facebook and social media services to our customers."
In conjunction to this occasion, we are giving free website grading service and solutions to businesses who want to get on page one rankings on the search engines; and anyone interested can submit their website url to us together with their name and company at : dovetanet@doveta.com
You can learn more about DotComSecrets Malaysia by visiting : http://dcswebinar.dotcomsecrets.com/w/2?tracking1=1709
About Russell Brunson & DotComSecrets
Russell Brunson of Boise, Idaho is one of the biggest names today in online marketing. Russell started his company, DotComSecrets.com in 2004 when he was a student and wrestler at Boise State University. Within a year of graduating, he had made his first million. Known for teaching budding entrepreneurs to turn their hobbies and passions into online income, Russell also helps small business owners to increase profits through internet marketing.
For more information contact: Nicholas Joseph Lim Mobile: +60122966347