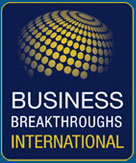 Even though 79% of executives report that responding quickly to change is the only way to survive the current economic climate, only 1 in 3 are able to identify threats before they strike
Grovetown, GA (PRWEB) October 02, 2012
Empire Research Group, a division of Business Breakthroughs International, today announced its new suite of Core Story and research services for clients. With its services, Empire Research Group's clients are able to achieve a 2,600% higher success ratio than their competition.
In today's business environment, companies need every edge they can get. Those businesses that are successful have secrets that the 92% of failed business ventures missed. Surveys show that 60% of high-growth businesses rank research and strategy expenditures as their highest ROI areas. And for good reason: being able to identify market trends ahead of the competition gives businesses a marked edge in sales.
This is where Empire Research Group assists these companies, by giving them a vehicle that has proven to:

Strategically optimize their brand position
Accelerate organizational and industry credibility
Open the door to unprecedented dream client access
Generate the trust and rapport critical to landing deals that seem to close themselves
Convert salespeople to expert status
"Even though 79% of executives report that responding quickly to change is the only way to survive the current economic climate, only 1 in 3 are able to identify threats before they strike," said Mitch Russo, CEO of Business Breakthroughs International. "With Empire Research Group's comprehensive suite of Core Story services, businesses are able to understand trends before anyone else in their market, and can proactively position themselves for growth."
Empire Research Group's suite of services includes:
Core Story Production Services: A custom-built research-driven marketing strategy to catapult business growth. The Core Story is a creatively formulated Ultimate Presentation that positions your brand far above today's massive advertising siege utilizing proprietary research and a team of strategic writers and research professionals.
Market Research: Empire now offers customized Platinum-level Research Services that reveal trends, identify threats and provide competitive analysis. These proprietary sources are filled with credible academic and trend-targeting topics, which allow businesses to expertly target and formulate their Core Story stadium pitches.
Deployment Services: Business Breakthrough International's world-renowned coaching and consulting services provide companies with strategic tactical guidance to help catapult their Core Story sales model.
"We fully customize our products to our clients' needs, hand-selecting a Core Story team that is the best possible match in terms of skills and experience," said Cynthia Powers, executive vice president of Empire Research Group. "Clients will really be able to see this expertise kick into high gear when our project managers dissect the research and assemble it into a cohesive, highly effective story that strategically positions the clients' product or service like no other team would be able to do."
About Empire Research Group
Empire Research Group is a wholly owned subsidiary of Business Breakthroughs International, a Tony Robbins and Chet Holmes company. Business Breakthroughs International offers a wide variety of products and services to help businesses to grow and prosper in any industry or economic climate.
Connect with Business Breakthroughs International via LinkedIn and Facebook
For additional information, Contact:
Contact Person: Mr. Craig Sowers
Company Name: Business Breakthroughs, Int'l/Empire Research Group
Telephone Number: 888-253-8497
Email Address: CraigSowers(at)businessbreakthroughs(dot)com
Web site address: http://www.BusinessBreakthroughs.com