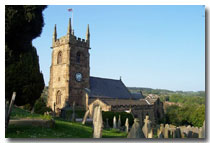 Matlock is a great base for anyone thinking of staying in the Peak District
Peak District, UK, 2nd October 2012 (PRWEB UK) 2 October 2012
Peak District Online add Matlock and Matlock Bath to their expanding Peakapaedia of knowledge as new pages are added today.
With a website attracting more than 200,000 unique visitors a month, the team at PDO toast the success of more interesting facts and information added to a website full to bursting with everything a visitor to the area needs to know.
"Matlock is an ancient spa town in the heart of the Peak District," explains Jim Dobson, one of the directors for Peak District Online. "We've added another 10 pages so far and it's an ongoing process. We aim to increase its popularity as a holiday destination in the UK and we've uncovered facts even we didn't know. All our team at the office have had great fun researching the history but also bringing the website up-to-date with the latest special offers for holiday accommodation available in this glorious part of the Peak District." He goes on to say, "Matlock is a great base for anyone thinking of staying in the Peak District or having a short break away, because it is so close to other wonderful villages we have here such, as Bakewell. There is also Chatsworth House of course and other stately homes and attractions just on the doorstep."
Accompanied by photographs taken by the directors themselves, Steve Wake is very proud his photography has been put to good use. "We are all so passionate about the Peak District and to be able to indulge in my hobby and use it to bring to life the wonderful writing our researchers have come up with, is a real privilege."
What started off as a small family run business, has grown into a website famous for its photography and well written text about local history, visitor attractions and any events which take place throughout the year.
The experts providing the largest directory online for holiday accommodation and Peak District cottages in the UK, http://www.peakdistrictonline.co.uk, add more pages to Matlock Bath, the inland seaside resort, which is a mecca for motorcyclists who travel for miles around and line the promenade with their shiny gleaming vehicles every weekend. The popular town with a distinct resort feel about it is visited by many and the delights of the place are brought to life with the new research.
See new pages as they are added and visit http://www.peakdistrictonline.co.uk today to discover more about each Peak District Village.