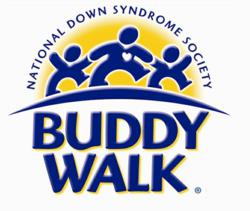 "DSACT means a lot to me--it gives me opportunities to experience new activities like attending science classes at The University of Texas and cooking classes at Young Chef's Academy." --Joshua Rodgers, adult member of DSACT
Georgetown, TX (PRWEB) October 02, 2012
The Annual Buddy Walk® will take place at Reunion Ranch on October 21, 2012, from 12-4PM. More than 3,000 people are expected to attend the event, which is one of over 250 Walks across the country this fall to raise awareness and funds for programs that benefit people with Down syndrome and their families.
The National Buddy Walk Program welcomes participants of all ages and abilities. The goals of the program are to promote acceptance and inclusion of people with Down syndrome and to positively influence local and national policy and practice. Last year alone, Buddy Walk events raised more than $11 million to benefit national advocacy initiatives, as well as local programs and services. The local Buddy Walk hopes to raise nearly $200,000 in 2012, with all funds raised benefiting the Down Syndrome Association of Central Texas (DSACT), which provides education, support, and resources to individuals with Down syndrome, their families, professionals, and the community.
In addition to the 1-mile walk, the Central Texas Buddy Walk will feature a variety of outdoor activities including basketball, volleyball, disc golf, swimming, tug-of-war, miniature golf, zip lines, and an obstacle course. Additional activities include bouncy houses, face painting, therapeutic ponies, kereoke, and Zumba classes. Musical guests include Joe McDermott, Monte Warden, Meg as Taylor Swift and Randy Hinson as Elvis. The Cheerleaders Dance Team and Warrior Storm Martial Arts will also perform. Local firetrucks, helicopters, and EMS vehicles will be available for kids to explore.
Participants can register online at DSACT's website or at the event. Registration is $20 per adult and $5 per child 12 and under.
About DSACT
The Buddy Walk is put on by the Down Syndrome Association of Central Texas (DSACT). The mission of DSACT is education along two vectors: teaching skills to those with Down syndrome and training parents, teacher, and medical professionals to understand the specific needs of these individuals. One of DSACT's most successful programs is the Learning Program, a literacy program for children ages 2-10. DSACT also offer martial arts, swimming, art, and music classes. Classes like these allow people with Down syndrome to fulfill their potential, have rich social lives, and be a valued part of the Central Texas community.
About Buddy Walk®
The Buddy Walk was developed by the National Down Syndrome Society in 1995 to promote acceptance and awareness of people with Down syndrome. People with Down syndrome are encouraged to invite "buddies" (everyone from friends, families, teachers, legislators, doctors, and celebrities) to join them on the Buddy Walk. Every participant helps promote the importance of understanding, acceptance, and awareness.
About NDSS
The National Down Syndrome Society is a nonprofit organization committed to being the national advocate for the value, acceptance and inclusion of people with Down syndrome.
###