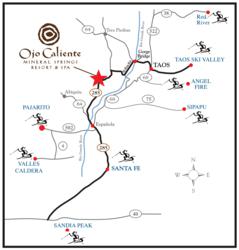 "A hot soak in Ojo's soothing waters is the ideal way to relax and rejuvenate after an amazing day of skiing in northern New Mexico." –Wendi Gelfound, Marketing Director Ojo Caliente Mineral Springs Resort & Spa
Ojo Caliente, New Mexico (PRWEB) October 02, 2012
Ojo Caliente Mineral Springs Resort & Spa, the historic high desert resort located in the middle of O'Keeffe Country, is one of Northern New Mexico's most desirable après ski destinations. New Mexico's ski resorts received some of the best snow in the United States last year, so now is the time to prepare for the powder and winter adventures in the 2012 and 2013 season.
This 144-year old legendary resort is located at the center of winter paradise—51 miles from the famed Taos Ski Valley, 64 miles to Angel Fire Resort, 69 miles to the mountain town of Red River, 68 miles through the adobe city of Santa Fe to Ski Santa Fe, a mere 49 miles to Pajarito Mountain Ski Area near Los Alamos, and 57 miles to the Valles Caldera, one of the area's best kept secrets for cross country skiing and snowshoeing. After an exhilarating day on the slopes, Ojo entices weary skiers to rejuvenate with a Ski & Soak package. Guest simply bring their lift ticket or season pass from any New Mexico ski resort from the 2012/2013 season and get 20% off entry to the springs or their overnight stay.
At Ojo, after a hard and glorious day in the snow, you can "soak your bones" in all four soothing, sulfur-free geothermal mineral waters that flow to surface in excess of 100,000 gallons daily. The resort is modern and fresh, with historic charm, in a tranquil and relaxing environment. Choose from 11 mineral pools, including three private outdoor pools with kiva fireplaces, and a eucalyptus steam and sauna to melt away the body stress. Combining a soak in the hot springs with a spa treatment provides the ultimate relaxing experience for both mind and body. The diverse spa menu offers a full array of restorative therapies, including nurturing massage and hydrating wraps, scrubs, and body treatments.
The Artesian Restaurant provides a casual dining experience and charming atmosphere. Chef Neil Stuart blends local flavors with global cuisine to create a delightful menu that ranges from seasonal Southwestern favorites to a variety of international dishes. Lighter fare, including homemade pizzas, burgers and green chile fries, plus an extensive selection of local and imported wine and beer are available in the Wine Bar & Lounge.
Lodging options range from the Historic Hotel to charming cottages, enchanting suites with kiva fireplaces, and private homes. The Springs' diverse landscape ranges from the lush river valley to stunning high dessert mesas – all of which contain numerous hiking and biking trails. The more adventurous will enjoy over 15 miles of newly mapped mountain biking trails plus a more level 2-mile Bosque River Loop.
Ski, Soak and Stay at Ojo Caliente Mineral Springs Resort & Spa: Bring your lift ticket or season pass from any New Mexico ski resort and get 20% off Springs' entry or any lodging unit (one discount per person). Offer is valid 7 days a week, excluding holiday periods, and is valid from December 1, 2012 - April 30, 2013. Visit ojospa.com for details.
# # #
Ojo Caliente's Recent Accolades
2012 Certificate of Excellence Award from Trip Advisor
One of the Best Desert Getaways – Outside Magazine Online
Top 10 Resort Spas – Away.com
Top 5 Favorite Mineral Springs Spas & Top 5 Most Affordable Spas – Spa Magazine
Top 10 Favorite Mineral Springs Spas in the World – SpaFinder Magazine
The secluded sanctuary that is Ojo Caliente is tucked into a cottonwood dotted river valley just north of Santa Fe and just south of Taos, NM. Opened in 1868, Ojo is one of the oldest natural health resorts in the United States, and the only hot springs in the world with four unique, sulfur-free healing mineral waters: iron, arsenic, soda and lithia. Deemed sacred by the Native Pueblo tribes of Northern New Mexico, Ojo has been a gathering place for diverse groups for thousands of years.
Ojo is both historic and fresh with eclectic charm in a relaxed and tranquil environment. It boasts a rejuvenating full-service spa, utilizing a range of Native American- and East Indian-inspired therapies, which incorporate wild crafted and indigenous herbs, flowers and essential oils. The resort consists of 48 beautifully appointed New Mexico style lodging units, including enchanting suites, charming cottages, the Historic Hotel and private homes. The Artesian Restaurant serves up fresh, inventive, locally-influenced foods, as well as international dishes. Lighter fare, plus an extensive selection of local and imported wine and beer are available in the Wine Bar.
JLH Media
505 577 1347
jpadilla(at)jlhmedia(dot)com