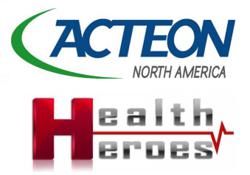 Mount Laurel, NJ (PRWEB) October 02, 2012
ACTEON North America announced today that they will be featured in an upcoming episode of Health Heroes.
ACTEON North America, located in Mount Laurel, New Jersey is consistently on the forefront of technological advancements, with a team of biologists, electronics engineers, mechanics, and digital signal specialists continuously working to enhance products to reflect the most recent innovations.
This particular episode will showcase innovations in dentistry. The medical community is advancing at a breakneck pace, and Health Heroes viewers will be taken behind the scenes of the dental and medical equipment manufacturer that makes it all happen.
"ACTEON North America is excited about the opportunity to partner with Health Heroes to highlight our innovative technology to the dental market." said Tim Long, Vice President and COO of ACTEON's North American office."ACTEON has long been a pioneer and leader in innovation to provide improved clinical outcomes. We thank Health Heroes for the opportunity to feature our company and technology."
"When discussing dentistry, it's truly amazing to learn about the constant innovations that are changing the industry," said Barbara Perry, producer for the series. "I'm proud to be able to bring an inside perspective to the Health Heroes audience."
In this segment, viewers will learn about the medical equipment being produced at ACTEON. Discovery Channel audiences will surely be amazed at ACTEON's continuous efforts at enhancing products to reflect the most recent innovations.
About ACTEON:
ACTEON North America is part of The ACTEON Group, a world leader in small equipment and consumables for dentists. The ACTEON Group's companies include SATELEC Equipment, SOPRO Imaging, and Pierre Rolland Pharmaceutical which employ more than 650 workers worldwide. ACTEON continually develops innovative products for its growing international dental market.
For more information, visit: http://www.acteonsupport.com or call 1-800-289-6367.
About Health Heroes:
Health Heroes is a powerful TV series dedicated to defining and exploring today's latest medical advances in all areas of health and wellness. Written with both the industry professional and television audience in mind, Health Heroes educates, entertains and enlightens the lives of our viewers.
For more information visit: http://www.dmgproductions.org or call (866) 496-4065.
Media Contact:
Barbara Perry, Senior Producer
(866) 496-4065 Ext 825