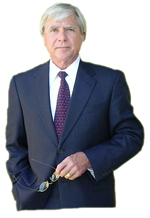 Our economy will come alive through the support and involvement of the women voters.
Melbourne, FL (PRWEB) October 01, 2012
Bill Gaylor, Candidate for the U.S. Senate, is reaching out to female voters with an unusual approach, a jewelry fashion show, dubbed BLING FOR BILL! "It's a jewelry fashion show to encourage women to get involved in the upcoming November elections," shares his wife, Sheila Gaylor.
"As a goldsmith himself, Bill appreciates that the way to a woman's heart is to encourage the way she looks and feels," adds Sheila. Gaylor is sponsoring the BLING FOR BILL! fundraiser event to be held at The Knowledge Exchange in Palm Bay, Florida on Friday, October 19, 2012 beginning at 6:30 pm.
"Our economy will come alive through the support and involvement of the women voters," says Gaylor.
The BLING FOR BILL! Fundraiser event will be hosted by Joyce Barton, featuring Premier Designs Jewelry. Proceeds will benefit the campaign to elect Bill Gaylor to the U.S. Senate. "I am thrilled to play a part in Bill's election effort. He is a man of integrity and strong conviction. He believes in our country and Constitution and he firmly supports the strong role women play in society whether they choose to raise their family at home or raise productivity in the market place. He is a breath of fresh air when choosing who is best to represent Floridians in Washington, DC."
The goal of this fundraiser is to empower women to look and feel more confident by expressing their individual style, an important trait recognized by Gaylor. No other candidate has shown this level of appreciation for the female voters. Experts believe this trend will ignite the female voters to take a more pro-active approach.
Bill Gaylor is the first candidate for the US Senate to appeal to the female voters on this level.
"A fun event like this will provide a great way for me to reach out to the female voters in the area so they will understand that I am here to represent them and that they have a real choice. This November must be about electing the right people to get things done and no longer about party politics as usual." Bill Gaylor is a successful businessman, husband and father of four children. Bill Gaylor is the No Party Affiliate Candidate for US Senate. He will be making a personal appearance at this fundraiser event in an effort to meet and support the female voters of Brevard County.
For Further Information and to Secure Reservations, contact Joyce Barton, PO Box 510544, Melbourne, FL 32951 321-676-8287.
About Bill:
Bill Gaylor is no party affiliate candidate from Florida for the US Senate. For complete information about Bill Gaylor and his campaign in Florida for the U.S. Senate, visit the campaign's website at http://www.floridaforbill.com. Like 'Bill Gaylor for US Senate' on Facebook.