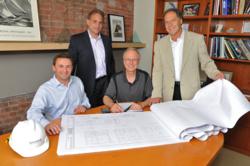 Norwalk, CT (PRWEB) October 02, 2012
Spinnaker Real Estate Partners LLC, a full service real estate company, has announced the formation of Spinnaker Residential, LLC, an integrated development, construction, and management company focused on market rate multi-family residential investment opportunities throughout the U.S.
Spinnaker Residential seeks to capitalize on the changing renter demographics in small cities, villages and emerging markets that want a high level of connectedness, community, and amenities.
The founding partners of Spinnaker Residential -- Clayton Fowler, Mark Forlenza, Kim Morque and Frank Caico -- have many decades of experience in the multi-family sector working with large regional and national apartment builders and have been responsible for the development of thousands of apartment homes and mixed-use communities in the last 25 years.
"Spinnaker Residential will pursue development and investment opportunities utilizing a strategy of infill development around transit and employment centers and buying underperforming assets opportunistically," said Clayton Fowler. A founding partner of Spinnaker Real Estate Partners, Mr. Fowler has over 30 years of experience in acquisition, development, construction, and management of commercial and residential projects. He is also the managing development partner of several Spinnaker projects in Portland, Oregon, among them Hoyt Street Properties, a 3,000-unit urban development with 2,300 units completed, and Spinnaker St. Louis.
"The underlying demographics for multi-family rental housing are the best they have been in a generation. Spinnaker Residential is well-positioned to capitalize on this," said Mark Forlenza, who has over 25 years of experience in the development, construction, and management of residential real estate. Prior to joining Spinnaker, Mr. Forlenza was an Officer with AvalonBay Communities, Inc. where he was responsible for the development and construction of rental communities in Connecticut and New York. Previously, he held a number of executive positions at GDC and its subsidiaries including President. In total, he has managed the development of over $2.5 billion of residential real estate in over 30 communities.
"We are very excited to announce the formation of this new business platform. With our extensive skills in acquisition, finance, development, construction, marketing and leasing, the founding partners of Spinnaker Residential are uniquely qualified for success in the multi-family sector," said Kim Morque. Mr. Morque has been a principal with Spinnaker Real Estate Partners since 1998 and has over 25 years of experience in real estate, construction, and property management. He is responsible for redevelopment projects and property management functions for the company. He is currently working on several mixed-use and redevelopment projects in Fairfield County, Connecticut from Stamford to New Haven.
Frank Caico, who has over 15 years of experience in land use planning and development, commented, "Spinnaker has a well-earned reputation for its award-winning and innovative redevelopment projects. Spinnaker Residential will build on that record of success while adding the discipline of institutional management." Mr. Caico is a former Senior Director of Development with AvalonBay Communities, Inc. Before joining AvalonBay, he held various development positions with Ginsburg Development and Baker Residential, where he was directly involved in the acquisition, master planning, design, approval, and construction of numerous multi-family communities totaling over 1,200 homes.
Based in Norwalk, Spinnaker Real Estate Partners LLC owns, develops and manages mixed-use, commercial, and multi-family properties throughout the U.S. Guided by a steadfast commitment to sustainable and green building, the company's urban redevelopment projects focus on creating vibrant communities that connect people, housing, business, jobs, and recreation. In Connecticut, the company has developed commercial, retail and residential projects in Norwalk, South Norwalk, Greenwich and Stamford. Outside of Connecticut, Spinnaker has created urban redevelopment projects in Portland, Oregon and St. Louis. For more information about Spinnaker Real Estate Partners visit http://www.spinrep.com.