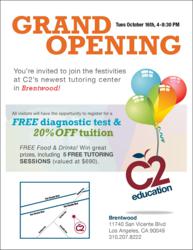 The new center provides local families access to a wide range of academic services, including subject tutoring, standardized test preparation, college admissions counseling, and academic counselin
Los Angeles, CA (PRWEB) October 03, 2012
C2 Education, the nation's fastest growing network of educational support centers, announces the grand opening of a new center in Los Angeles, California. Located at 11740 San Vicente Boulevard in the San Vicente Plaza in Los Angeles, CA, the new center provides local families access to a wide range of academic services, including subject tutoring, standardized test preparation, college admissions counseling, and academic counseling.
On Tuesday, October 16 at 4:30 PM, C2 Education, in conjunction with the Los Angeles Chamber of Commerce, will hold a ribbon cutting ceremony to herald the opening of its newest location. Grand Opening events will be held from 4 to 8 PM. To welcome families, C2 will provide free food and drink and the chance to win great prizes including a certificate for 5 free tutoring sessions valued at $690. Families who attend will also have the chance to register for a free diagnostic test and consultation, a $95 value; C2's diagnostic tests measure students' individual strengths and weaknesses, allowing C2 to craft personalized programs for each student. New students who enroll within the first month of the center's opening will also receive 20% off enrollment.
The opening of this new center continues the mission of C2 Education, which is to bring higher academic standards and access to educational opportunities to communities across the country. The addition of the Brentwood location marks the thirteenth C2 Education center in the greater Los Angeles area with additional locations soon to come. For more information about C2 Education, their locations, and their services, visit http://www.c2educate.com.