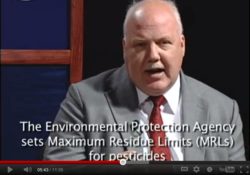 Glen Burnie, MD (PRWEB) October 01, 2012
Benjamin England, Founder and CEO of FDAImports.com, was a guest recently on Food Chemical News' Knife and Fork Show, a new web-based news show featuring topics, guests and discussions relevant to the international food industry. Jason Huffman, Editor in Chief of Food Chemical News and host of the Knife and Fork Show, interviewed Mr. England for a 3-part series on food safety, food imports from China and the Food Safety Modernization Act.
"Food Chemical News is a fantastic news source for the industry and couldn't be more relevant," said Benjamin England. "We highly recommend FCN to our contacts in the food and beverage industry." The Knife and Fork Show episodes can be found on Food Chemical News' YouTube channel and on their website, http://www.foodchemicalnews.com.
Part 1: Food Safety & Imports
Part 2: China's Food Safety Reputation
Part 3: Food Safety Modernization Act & Imports
About FDAImports.com
FDAImports.com is an FDA consulting firm helping U.S. and foreign companies navigate through and meet complex FDA regulations for marketing and importing foods, dietary supplements, drugs, cosmetics and medical devices. Benjamin L. England, Founder and CEO, is a former 17-year veteran of the FDA and served as the Regulatory Counsel to the Associate Commissioner for Regulatory Affairs. Contact: Jon Barnes, (410) 220-2800 or pr(at)fdaimports.com.
###