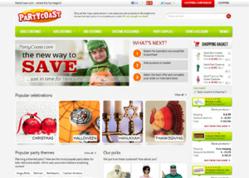 Party Coast offers shoppers a complete solution to online shopping that meets all their party needs in one place. The unique website shows shoppers how to find the best deals from numerous stores across the internet – it is like having a personal shopper
Grandville, MI (PRWEB) October 03, 2012
Say goodbye to the endless search for online coupon codes and deals – and say hello to your own personal shopper.
Online shopping can be fun and save a lot of money, but it is hard to find the cheapest online deals. It takes a lot of searching through numerous sites, comparing shipping rates, and looking everywhere for coupon codes only to find out that they don't work. This is especially true when trying to plan or host a party. One site may have the perfect tableware and decorations at one great price, but then the other party supplies needed are cheaper on a different site – making it a very expensive and time-consuming ordering process. Wouldn't it be nice to get all the party supplies in one place at the cheapest prices? Well, now it is possible.
"Party Coast offers shoppers a complete solution to online shopping that meets all their party needs in one place. The unique website shows shoppers how to find the best deals from numerous stores across the internet – it is like having a personal shopper do all the work for you," Andrius Zabulonis , owner and founder of the Party Coast said.
Here is how it works: Visit the website and search for all required party supplies. Shoppers can find Halloween costumes, party decorations, balloons, and more all in one place. Then add the entire party supply list to the online basket. Here is where the real fun begins; once all the party items are chosen, the website will automatically show which online store offers the best price for the entire order. Then it directs shoppers to the appropriate check out to complete the order ̶ saving time, frustration, and a lot of money. No more coupon codes that don't work; no more searching for free shipping; and no more ordering from numerous sites just to save a buck.
The unique website has already searched which sites have the best coupon codes, offer free shipping, and best prices on each of the shopper's individual party needs. Then calculates which store will save the most money overall for the entire order, saving shopper's precious time searching for coupon codes and price comparing.
Even better, Party Coast allows shoppers to shop through all the merchandise in the most popular party stores internet-wide.
This unique and revolutionary new way to shop is now available. Please visit the site today to say hello to the 21st Century way of shopping.