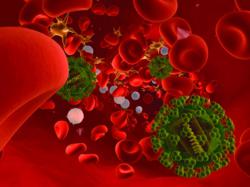 Accurate estimates of the incidence of new HIV infections are critical to every policy decision regarding how to manage and respond to the HIV epidemic
Milford, MA (PRWEB) October 02, 2012
SeraCare Life Sciences, a global life sciences company providing vital products and services to facilitate the discovery, development and production of human diagnostics, has received a $299,771 Small Business Innovation and Research (SBIR) grant from the National Institute of Allergy and Infectious Diseases, an agency of the National Institutes of Health (NIH). The grant will fund the development of HIV incidence panels and a rapid test for HIV incidence. Accurate determination of the number of new HIV infections in a given population (i.e., HIV incidence) has historically proven an obstacle to effective monitoring of the epidemic and to evaluating interventions.
Currently, it is difficult for epidemiologists and clinicians to distinguish between recent and longer term HIV infections. Many individuals have been infected for years when first diagnosed. "Accurate estimates of the incidence of new HIV infections are critical to every policy decision regarding how to manage and respond to the HIV epidemic," said Patricia Garrett, Ph.D., senior director, science and technology for SeraCare and principal investigator on the grant. "Those estimates impact how health agencies monitor HIV, target resources and evaluate the effectiveness of different interventions."
The SBIR grant will fund development of incidence panels comprised of serial samples from donors with closely estimated infection dates. SeraCare will collect and develop commercially available samples from donors known to be very recently infected with HIV, drawing on its unrivaled relationships with clinical sites to identify, recruit and retain donors. The company is recognized as a world leader in the development of sample panels for a wide range of infectious diseases.
In addition, SeraCare will partner with assay technology specialist Immunetics, Inc. for the development of a rapid HIV incidence test method using these new incidence panels. The rapid test will be based on an innovative lateral flow and detection methodology patented by Immunetics and will be the first of its kind to enable use outside of traditional laboratory settings. A further innovation in the test device will allow the analysis of antibody titer and avidity in a single cassette. Through a licensing agreement with the Centers for Disease Control and Prevention (CDC), the test will incorporate new HIV antigen technology developed there, which will ensure coverage of all HIV subtypes and a low rate of false recency.
"Immunetics is pleased to partner with SeraCare on a project that has significant implications for HIV detection and treatment," said Andrew E. Levin, Ph.D., Immunetics chief executive officer and scientific director. "We look forward to developing an HIV incidence test that is fast, easy to use and capable of ensuring the accurate recency detection that is vital to measuring HIV incidence."
About SeraCare Life Sciences, Inc.
SeraCare serves the global life sciences industry by providing vital products and services to facilitate the discovery, development and production of human diagnostics and therapeutics. The Company's innovative portfolio includes diagnostic controls, plasma-derived reagents and molecular biomarkers, and contract research services. SeraCare's quality systems, scientific expertise and state-of-the-art facilities support its customers in meeting the stringent requirements of the highly regulated life sciences industry.
About Immunetics
Immunetics Inc. (http://www.immunetics.com) offers state-of-the-art assay technology for infectious disease diagnosis and blood screening, and for more than ten years has been a leading innovator of tests for bacterial, viral and parasitic diseases. The company produces and markets a range of infectious disease assay kits and instruments. Its mission is to deliver better, cost-efficient care through more accurate diagnosis. Immunetics is headquartered in Boston. Follow Immunetics on Twitter at http://twitter.com/immunetics.
# # #