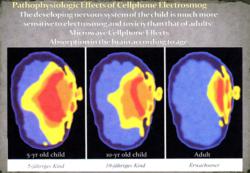 "Cells are permanently damaged by cellular phone frequencies."
- Dr. Peter Franch of the Center for Immunology Research in Sydney Australia
Novato, California (PRWEB) October 17, 2012
Are cell phones safe? All cell phones emit electromagnetic radiation and many parents worry about cell phone risks for children. While the topic is controversial, according to Dr. Peter Franch of the Center for Immunology Research in Sydney Australia, "Cells are permanently damaged by cellular phone frequencies." Phone radiation warnings are published in all user manuals by law, but many users forget to keep the phone at a safe distance from the head. In order to address the issue, Green Swan, Inc. is proud to introduce the release of Too Close™ for Android, a unique new software product designed to warn users when the phone gets "too close" to the head in violation of published SAR safety guidelines.
Too Close™ takes advantage of spatial proximity data in the Android OS with a proprietary system designed to issue an alert any time the cellular phone remains near the head for a certain period of time. At set intervals, alarms will sound reminding users to move the phone away from the head. The alerts are conveniently suppressed while in headset or speakerphone mode, thereby encouraging compliance with FCC safety guidelines.
Users can customize Too Close™ reminders by selecting from several alarm types and alert intervals according to preference. The "Always On" feature ensures that Too Close™ will be constantly monitoring phone proximity at all times, thereby reminding users of cellular radiation risks. Too Close™ is a convenient and simple software solution to remind users of cell phone safety with no additional hardware required.
EMF radiation seems to be everywhere these days, from cell towers to microwave ovens, TV remotes and especially the cell phones we innocently place against our heads. While consumers cannot avoid the impact of radio frequency emissions, they can take precautions to help minimize the impact of cellular phone radiation by remembering to move the phone away from their head.
Too Close™ was designed to be similar to a seat belt warning system, a constant reminder to stay within safety guidelines. The purpose of the product is to retrain users to use a headset or speakerphone instead of holding the phone against the head. While the current version does not yet provide password protection, the upcoming release of Too Close Premium will provide the additional parental control functions with an "Always On" password function. Too Close™ is a multilingual application (English, Spanish and French) and is now available for download on Google Play.
Green Swan, Inc. CEO Harry Lehmann says, "Green Swan's issue is that people, especially young people who have thinner skulls, should make every effort to comply with the proximity guidelines which came with their phones." Green Swan, Inc. is committed to promoting safer use of mobile phones with its complete line of cell phone safety software and hardware.
DOWNLOAD Too Close on Google Play or on Amazon
JOIN US on Facebook
FOLLOW US on Twitter
About Green Swan, Inc.
Green Swan, Inc. founded in 2010, holds patents and patent pending solutions for several products, including new cell phone safety products designed to address areas of health and environmental safety concerns. Green Swan's founder and CEO, Harry Lehmann spent over 35 years as a civil trial attorney observing numerous areas in need of new consumer product solutions in the market place. The company is currently focused on bringing its cell phone safety products to market in order to coincide with the rising tide of public awareness and concern surrounding the issue of cell phone radiation and its potential adverse effects on human health.
Learn More About Cell Phone Radiation
Green Swan, Inc. provides many useful links to mobile phone radiation news and research on their website at http://greenswan.org.
# # #