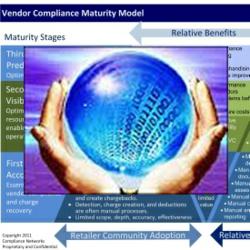 ...tying in vendor supply chain performance and inbound visibility to these forecast and inventory analytics can better manage and reduce variability and drive more sales and profits at the store...
Sugar Land, Texas (PRWEB) October 05, 2012
Stephen Kalyta, Head of Supply Chain for Wind Mobile, makes a compelling case regarding operational agility in the consumer goods to retail supply chain, "The industry suffers from few too staff to react to far too many inputs, in an increasingly complex business environment. In addition, even with constant meetings and reports, our reaction time is so misaligned that it is a competitive disadvantage. We need a disruptive technology that can anticipate outcomes based on the intelligence of the whole organization, its customers and partners, measured in nanoseconds."
Mr. Kalyta goes on to say, "With Predictive Analytics, all variables, across all interfaces are assimilated and weighted in accordance with the realities of the business in near real-time. What this creates is a cleaner, surgical focus of resource capital on the most important variables that allows them to anticipate change rather than react to it. Predictive Analytics gives us time to breathe, and it puts the advantage back in the hands of the decision-makers.
For twelve years, Compliance Networks has taken data from retailer's execution systems to identify supply chain failures and using the same data knew historical vendor performance for such things as on-time and complete. According to Greg Holder, CEO and Founder of Compliance Networks, "We also knew that vendor performance relative to shipping metrics could have a significant impact on sales. Now, with Retalon, we have a better understanding of this real impact to sales and can provide defendable information to the stakeholders. What is even more exciting is providing this supply chain execution data and real-time audit data to Retalon to include as another variable in their process."
Mark Krupnik, President and CEO of Retalon, states that, "Compliance Networks has helped Retalon to open a whole new world where our Business Specific Predictive Analytics (BSPA) can make a difference. Retalon BSPA brings a unique ability to account proactively for all the factors influencing vendor – retailer relations and their corresponding businesses. This very tangible, specific information would allow Compliance Networks to help their customers being proactive about potential issues rather than react on the problems after they have happened."
Dan Gilmore, Chief Editor, Supply Chain Digest, has determined that, "The results and benefits of Predictive Analytics will be enhanced as the number of factors considered in the models are increased." Mr. Gilmore adds, "I don't think the retail industry has yet fully perceived how tying in vendor supply chain performance and inbound visibility to these forecast and inventory analytics can better manage and reduce variability and drive more sales and profits at the store."
Compliance Networks has partnered with Retalon and Supply Chain Digest to produce two brief, but very informative videocasts on the topic of "Predictive Analytics and Perfect Logistics Execution – The Future of the Consumer Goods to Retail Supply Chain". The first videocast, "Understanding Predictive Analytics in the Consumer Goods to Retail Supply Chain," aired on September 18, 2012. It is available on-demand here. The second videocast will broadcast on October 23, 2012, and explores the synergy between supply chain performance data and predictive analytics, and real-world examples. Register for the second videocast here.
About Compliance Networks 
Compliance Networks provides private-cloud-based software solutions that enable retailers to achieve significant improvements in total vendor performance while substantially reducing supply chain variability, resulting in strong gains in operating efficiency and cash flow generation. The net result is increased customer satisfaction, profitability, and shareholder value. Compliance Networks' suite of retail-centric vendor compliance, vendor performance and supply chain visibility solutions drive continuous performance improvement throughout the extended supply chain. Compliance Networks is proud to serve leading retailers such as Kohl's, Burlington Coat Factory, Pep Boys, Stein Mart, The Sports Authority, Bon-Ton Stores Corporation, Bob's Stores and others.
About Retalon Inc.
Retalon Inc. is a leading provider of comprehensive analytic solutions for supply chain and marketing operations. Retalon products range from task-oriented solutions to a common analytic platform, resulting in tangible optimization of the supply chain and significant measurable benefits for the entire organization. Retalon solutions are successfully deployed in over 60 installations. For more information, visit Retalon at http://www.retalon.com.
About WIND Mobile
WIND Mobile provides voice, text and data services to Canadians on a next-generation wireless network and is committed to offering a level of wireless service presently not available in Canada. WIND is built on actual conversations that are happening with Canadians who are passionate about wireless and creating a better mobile offering nationally. For more information about WIND Mobile, please visit http://www.WINDMobile.ca.
About Supply Chain Digest
Supply Chain Digest™ is the industry's premier interactive knowledge source, providing timely, relevant, in-context information. Reaching tens of thousands of supply chain and logistics decision-makers each week, our flagship publications – Supply Chain Digest and SCDigest On-Target - and web site (http://www.scdigest.com) deliver news, opinions and information to help end users improve supply chain processes and find technology solutions.