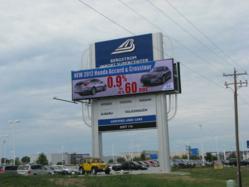 While serving as VP of sales at Acuity Brands Lighting, Frazier increased distributor sales from $28 million to over $50 million.
Duluth, GA (PRWEB) October 04, 2012
Formetco today announced that Jeff Frazier has been appointed Director of EMC Sales. Frazier brings extensive experience in new business development, strategic planning, sales, & marketing to the position, which makes him uniquely qualified to implement Formetco's new national dealer program.
Frazier has served in sales and management positions with companies as diverse as Congoleum, Calgon, Merck, and Smith & Nephew. In his latest position, Jeff served as VP of Sales with Acuity Brands Lighting, implementing sales programs for national distribution companies.
"I'm excited to work for a company that is well recognized in the billboard industry and we look forward to bringing customers the best value in EMCs," said Frazier. "This environment is very competitive, and as we develop long-term relationships with sign companies who recognize the benefit in partnering with Formetco, it's imperative that we listen to their needs and develop products, services and programs that will complement their individual sales objectives. We want to make sure that Formetco delivers a great customer experience every time an Electronic Message Center is purchased from us."
"Frazier brings nearly twenty of experience in the electronics business, in particular at the dealer level, " said Jock Gibb, vice president of sales at Formetco "He is a welcome addition to our team and will be a critical part of building our EMC dealer network."
As director of EMC sales, Frazier will nurture the growth and prosperity of individual Formetco dealers and the network as a whole by ensuring effective communication, providing support resources and leadership as well as developing and implementing value-enhanced programs across North America.
Founded in 1969, Formetco has grown to become the world's largest full-service supplier to the Out-of-Home industry, with headquarters in Duluth, Georgia and a digital research and development facility in Minnesota. Formetco manufactures the highest resolution digital billboards and EMCs in the industry.