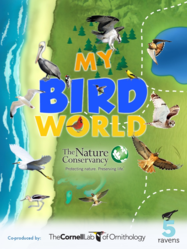 Palo Alto, CA (PRWEB) October 03, 2012
The Nature Conservancy has partnered with Five Ravens to create a new version of My Bird World, an educational mobile app for the iPad, iPod touch and iPhone. This award-winning app is five-star rated and has been nationally recognized by TeachersWithApps.com, bestkidsapps.com and Star Picks.
Along with The Nature Conservancy's LEAF, Nature Rocks and Nature Works Everywhere programs, the organization's work with Five Ravens on My Bird World further illustrates the Conservancy's commitment to educating the next generation of conservationists.
My Bird World is produced by Five Ravens and The Cornell Lab of Ornithology and features four educational games with multiple levels that teach students about North American birds. The app features stunning images, real bird sounds and over 400 bird facts and now includes conservation facts provided by The Nature Conservancy. This app is used by educators and parents to increase a child's love of birds and nature.
"In an effort to continue to expand The Nature Conservancy's audience, we are excited to contribute to My Bird World," said Geof Rochester, chief marketing officer of The Nature Conservancy. "Connecting children all over the world with nature through technology is important as we grow the next generation of conservationists."
"We developed this game to make learning engaging and fun and we are thrilled to partner with The Nature Conservancy to enhance our popular games by teaching children the importance of conservation while increasing their bird knowledge," said Wenda O'Reilly, president and co-founder of Five Ravens.
This wonderful conservation enhancement is free to all existing My Bird World and My Bird World HD users. A Lite version of both games is available as a free trial of the app. All are available on iTunes.
About The Nature Conservancy
The Nature Conservancy is a leading conservation organization working around the world to protect ecologically important lands and waters for nature and people. The Conservancy and its more than 1 million members have protected nearly 120 million acres worldwide. Visit The Nature Conservancy on the Web at http://www.nature.org.
About Five Ravens
Five Ravens, the digital division of Birdcage Press, combines a variety of learning approaches with digital game mechanics to create engaging learning environments. Their apps help students retain knowledge by applying key learning tools of memory, sound, and pattern recognition. Birdcage Press is renowned for its museum-quality collection of award-winning educational games on art, history, wildlife and aviation.