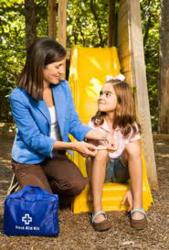 First-aid Training Saves Lives.
San Jose, CA (PRWEB) October 03, 2012
Disaster Supply Kit for San Jose Families
A natural disaster, such as a Bay Area earthquake can happen without any warning and leave people with little time to respond. Gathering supplies in advance and being prepared can help your family cope and endure evacuation or confinement at home with no power, phone or water until local relief crews can reach the area.
You'll need to purchase easily carried containers to hold disaster supplies. They should be plastic and durable. Listed below are the must have items for a disaster supply kit.
Water
Keep at least a three to four day supply of water for each person in the house. Water can be stored in any plastic container such as empty soda bottles or milk containers. You need to be sure that you have at least one gallon for each person in your home per day. If you have pets, be sure to include a supply of water for them as well.
Food
Gather at least a three to four day supply of non-perishable food, ready to eat meals, fruit and vegetables for the disaster supply kit. Be sure to include any special foods needed for infants, elderly or someone with a special diet. Be sure to add in comfort foods as well like cookies, coffee, candies etc. to help alleviate stress during a time of disaster. If you have pets, be sure to include enough food for one week for your pet as well.
Sanitation Needs
Make sure to include items of sanitation in the disaster supply kit for everyone in your household. This includes items such as toilet paper, feminine supplies, soap, toothpaste and a set of new unopened toothbrushes, disinfectant, and plastic garbage bags. You also need to ensure that you pack at least two changes of clothing and underwear for each person in your family, along with bedding for everyone. You can place these items into a large duffel bag or backpack for easier carrying.
Important Documents
Keep important documents such as bank account information, birth certificates and other family documents, wills, titles, deeds, etc. in a water and fire proof box that can be easily transported in case of emergency or disaster. These documents are very important because they are so hard to replace and you may need them in a case of emergency or disaster where you have to evacuate quickly.
First-Aid Kit
You should always have a first-aid kit in the car and in your home in case of emergencies. But these first-aid kits are also indispensable in a time of disaster. You can buy first-aid kits at most major department stores or easily assemble one on your own. The American Red Cross and American Heart Association sell first-aid kits at a low cost. But besides owning a First-aid kit, a first responder should know what to do with all the supplies. The American Heart Association provides First-aid certification classes in San Jose. First-aid kits should include the following items:

Assorted sized band-aids
2-inch sterile gauze pads
4-inch sterile gauze pads
Hypoallergenic adhesive tape
Bandage scissors
Tweezers
Thermometer
Alcohol Pads
Petroleum jelly
Anti-bacterial soap
Latex gloves
Cotton balls & Q-tips
You should also include certain non-prescription drugs in your first-aid kit, including:
Syrup of Ipecac
Aspirin
Non-aspirin pain reliever
Anti-diarrhea medication
Antacid (for stomach upset)
Laxative
By being prepared and having a plan for your family in case of a disaster, you will be able to evacuate quickly if necessary, remove some of the stress a disaster can cause for your family, and ensure that you have what you need to survive should a disaster strike your area. The San Jose American Heart Association provides CPR & First-aid Training Courses in Santa Clara County.