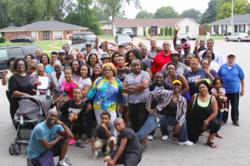 Money doesn't vote; people vote. Many Americans may not have money to donate, but they do have the time, passion and desire to keep moving forward...
Memphis, TN (PRWEB) October 02, 2012
"They created a problem where there was no problem," contends Sara L. Lewis about the voter I.D. laws many states have passed.
When the Memphis, TN career public school educator learned about the stricter voter I.D. laws that many states had enacted into law or were attempting to enact into law, she became infuriated. Immediately, she was reminded of the poll taxes created during the Jim Crow era of the south that included arbitrary laws and tests to prevent minorities and poor people from voting. Her frustration increased when she overheard a group of young adults bragging about why they did not vote.
Having recently seen a flash mob and how it motivated people, Lewis with the help of her grandchildren, created "The Obama Stride" Flash Mob. It is a song and line dance created to inspire Americans to go to the polls and vote for President Barack Obama on November 6th.
She knew music and dance were two elements that crossed racial, age, gender and socioeconomic lines and they could be used as tools to counter the tactics she believes are being used to promote voter suppression.
"The cases of voter fraud in this country have been less than one percent (1%)," says Lewis. "Stricter regulations lead to loss of momentum and motivation. The more requirements people have to meet in order to vote, the less likely they are to register to vote and actually vote. And those who are legislating these type of laws know this!"
According to Nate Silver with the New York Times FiveThirtyEight blog, voter I.D. laws could decrease voting by 0.8 – 2.4%. This may be a small percentage but it can make a huge difference, especially considering the current electoral landscape.
"The Obama Stride" Flash Mob's goal is to use song and dance to help inform and motivate Americans to go the polls. "The song cites a number of reasons for Americans to go the polls and vote. It does it in a fun and informative way," says DeAara Lewis, granddaughter of Sara Lewis and co-coordinator of "The Obama Stride" Flash Mob.
The Lewis family has already had its first Obama Stride Flash Mob. It received more hits than anticipated on Youtube within the first day and has been steadily gaining momentum.
"'The Obama Stride' is the People's Super PAC," Sara Lewis concludes, "Money doesn't vote; people vote. Many Americans may not have money to donate, but they do have the time, passion and desire to keep moving forward to help get President Barack Obama reelected."
To learn more about "The Obama Stride", visit http://www.theobamastride.com