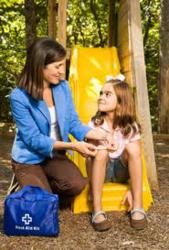 First-aid Saves Lives.
Sacramento, CA (PRWEB) October 17, 2012
One never knows when a medical emergency might arise. In any case it is smart to have a well-stocked first-aid kit handy in your home. A home first-aid kit will help a family deal with minor aches, pains, cuts, and scrapes and might even save an expensive trip to the doctor's. But having a well stocked first-aid kit is only part of the solution. It is also important to be properly trained in CPR and First-aid. The American Red Cross and the American Heart Association provide official CPR and First-aid certification classes in Sacramento.
A small heavy duty bag is a great container to store first-aid supplies in. Store this out of the reach of from children, but still somewhere that it is easily accessible if an emergency arises.
Keep a list of emergency numbers in the first-aid kit. It is also a smart idea to keep a list of these on the refrigerator door or tacked to a wall. The list should include the numbers of physicians, the Poison Control Center, the local Sacramento police and fire departments, and 911. It is also wise to include daytime telephone numbers for all those who work in the household.
A first-aid manual is an essential part of your first-aid kit. One that is large and has illustrations will work best. If possible, spend an evening going through the manual with the family. It is important that everyone, especially the children, know how to use the different pieces in the first-aid kit to their full effect. The American Heart Association hands out the First-aid manual after the training course.
A brief list of the medical history of each family member should be included. Medicines and dosages that family members take, allergies, and other major medical conditions should be on the list.
There are a lot of different items that can be put in a first-aid kit for the home. Some families prefer to buy a pre-made kit from the local pharmacy or a kit can be assembled piece by piece. The Red Cross sells great premade emergency first-aid kits for a low price. If you plan on creating your first-aid kit yourself, the following listed items are essential.
Assorted Band-Aids, nonstick gauze pads, butterfly bandages, elastic bandages, and tape.
A small flashlight, scissors, tweezers, and several cotton balls and cotton swabs.
Pain and fever reducers (analgesics). Common types include acetaminophen, ibuprofen, and naproxen. Aspirin can also be included, but should not be used by children.
Antiseptic wipes, antiseptic ointment, antibiotic cream.
Hydrogen peroxide.
A fast-acting type of antihistamine.
Cough suppressant.
Diarrhea remedy.
Hydrocortisone cream.
This is the beginning of a great home first-aid kit. It won't protect a family from everything, but these first-aid supplies should hold a family over until the local ambulance arrives on the scene. Remember that in almost every case it is smart to contact medical authorities to get a second opinion on even the most minor looking injuries and illnesses. The next step is attending an American Heart Association First-aid certification course. The AHA teaches First-aid Classes in Sacramento on a regular basis.