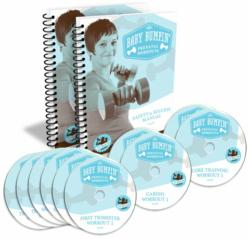 Baby Bumpin' helps women identify what exercises should be avoided in the first trimester to minimize the chance of miscarriage, what foods should be avoided to prevent extra weight gain, and the types of exercises that are safe for the baby.
(PRWEB) October 05, 2012
Baby Bumpin' is the latest in mom-styled workout programs to be offered by Sara Dean ACSM, HFI. Dean's popular mom-geared fitness programs help mothers, of all ages, lose the baby weight and slim down. Baby Bumpin' is being offered at a special price of $67.00. The program is designed to help moms exercise safely while pregnant. More information can be found by clicking here: http://www.babybumpin.com/
The Baby Bumpin' program is completely digital. Moms-to-be can instantly download all of its content, including: Trimester 1 Workouts, Trimester 2 Workouts, Trimester 3 Workouts, Success & Safety Manual, Why Prenatal Exercise is Essential, Prenatal Super Foods, Baby Bumpin' Cardio Workouts, and Baby Bumpin' Core Workouts.
"I want to be able to help as many moms as possible. I don't want cost to get in the way of women from getting their bodies back," said Sara Dean ACSM, HFI. "There are safe workouts available for women who are pregnant. I made these workouts with affordability and effectiveness in mind. Women can easily purchase my Baby Bumpin' program from the comfort of home and instantly have access to everything included."
http://www.BabyBumpin.com has testimonials and actual photos of women who have used the program. Baby Bumpin' helps women identify what exercises should be avoided in the first trimester to minimize the chance of miscarriage, what foods should be avoided to prevent extra weight gain, and the types of exercises that are safe for the baby. To purchase the product, or learn more, please click here: http://www.babybumpin.com/