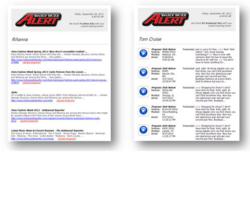 Burbank, Calif. (PRWEB) October 03, 2012
MediaMax Online, a leading provider of electronic press kits and media monitoring services, unveils Daily Buzz Alert, a new automated multi-media alert service. Daily Buzz Alert provides a cost effective media monitoring solution designed to deliver timely and accurate news breaks from major news and industry websites plus all 210 broadcast markets.
Daily Buzz Alert uniquely offers many features not found in other similar media monitoring products: full service management of media alerts with a dedicated Account Manager, cached snapshots of online mentions, an archive of media alerts for review and analysis, customizable reporting and delivery schedule, customizable scope of media coverage, and advanced keyword cluster technology to ensure optimal results.
About MediaMax Online:
MediaMax Online is a leader in its industry of providing strategic, customized media solutions for digital asset management and distribution, media monitoring, reporting and analysis. With a comprehensive, personalized approach, MediaMax Online offers innovative solutions like EPK.TV and Daily Buzz that integrate easily into client workflows and demonstrate effectiveness in improving their costs and efficiencies. Helping a wide range of businesses reach their goals, MediaMax Online serves major Entertainment Studios, Media Companies, Public Relations and Advertising Agencies, Corporate Brands, and more.