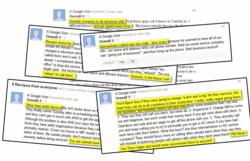 It is not the time to be passive. Regardless of level of service, businesses must ask their customers for feedback BUT in a tightly controlled way.
Houston, TX (PRWEB) October 02, 2012
Negative online reviews are silently killing millions of small businesses. Local businesses must have a proactive review seeking strategy in place. ThumbsUpOrDown.com announces the release of the "Ultimate Review Method" which enables businesses to easily get positive reviews while reducing negative reviews.
One day the phone stopped ringing for this Houston air conditioning company. The owner knows his business is going down the drain but is not sure why.
What he doesn't know is this. His business appears in the Google+ Local listings for the phrase "Houston air conditioning". These listings appear at the top of most local search results. What people find there crushes any hope he had to generate new business. His company's listing consists of only five very negative reviews.
Shamefully, massive potential exists for this company. 18,100 people search that phrase each month. 600 Houstonians per day seek help with their air conditioning problems. But he doesn't stand a chance. Would you hire a company with five reviews like this?
"More than awful Service!", "Horrible company to do business with.", "Will never use them again and would never recommend them to anyone!!"
The company has a professional website. The site makes a very good impression and probably cost thousands of dollars. Unfortunately, few people will ever see it. It appears on page 3 of Google, far below the Google+ Local listing packed with bad reviews. Less than 1% of Google's users ever look at page 3.
This scene is being played out all over the country. Millions of businesses are in the same boat, even without negative reviews. They may have a few positive reviews but if the competition has dozens, guess who gets the business?
Surprisingly, this can happen even without a website. A business does not need a website to get bad reviews. Google has automatically created 80 million business web pages from databases. 68 million of these pages are unclaimed. The businesses have not taken "ownership" of the page. They are unable to respond to negative reviews or to take advantage of this valuable property to promote their business. The businesses which do claim and optimize these pages are seeing many new customers.
In the past, reviews only drove sales for online products at sites like Amazon.com. Local businesses were immune from the damage caused by upset customers venting online. Those days are over.
Reviews are now pushing local sales. Google says 97% of consumers search online before shopping locally. A 2011 study by Cone, Inc. showed 87% buy based on positive reviews. An almost equal number have changed their minds about a local business after finding negative reviews online.
This is not just a Google problem. Sites like Yelp, TripAdvisor and Angie's List have grown 158% over the past 10 years. Yelp alone gets 41 million visitors per month. Every retail industry is represented. Healthgrades.com, a review site for doctors, gets 4.2 million visitors per month.
What is the answer? ThumbsUpOrDown.com President, Bruce Wedding responds, "It is not the time to be passive. Regardless of level of service, businesses must ask their customers for feedback, but in a tightly controlled way. Ideally, satisfied customers are sent to leave positive reviews and unhappy customers complain directly to the owner. This gives the owner a chance to solve the problem before it reaches the Internet. The result is many more positive reviews and very few negative ones."
ThumbsUpOrDown.com has released a free video showing businesses how to implement this exact strategy. They call it, "The Ultimate Review Method." Using it, businesses get many more positive reviews while reducing negative reviews. Business owners and managers may view the video by visiting the website.
ThumbsUpOrDown.com helps businesses increase sales by developing an excellent online reputation. Their affordable methods increase positive reviews across all major review sites while simultaneously reducing negative reviews. Customer satisfaction increases across the board. For more information please call 855-THUMB-UP (855-848-6287) or visit them at ThumbsUpOrDown.com.