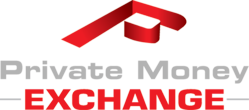 Private Money Exchange is your best bet to securing the funds you need for your real estate investments.
(PRWEB) October 02, 2012
Private Money Exchange, a leading loan investment agency specializing in real estate investment, has announced that it is now offering its vast pool of resources to help both lenders and borrowers receive the required funds. To achieve this goal, Private Money Exchange connects individuals with a network of nationwide private lenders in an attempt to find the most viable source of cash, effectively bypassing many conventional lending challenges—particularly those experienced by banks that have been affected by the economic downturn.
According to Lee Arnold, CEO of Private Money Exchange, "What we're doing here is making sure that everyone involved takes part in a low-risk, high-yield investment. We streamline all paperwork to ensure that the process is seamless and smooth so borrowers can get the funds in a timely manner and that lenders can profit from the investment."
Mr. Arnold says that "Private Money Exchange is your best bet to securing the funds you need for your real estate investments, especially in the short time period where you're looking to buy, fix, and flip a property."
He continues by saying that "the reason we've started to offer our resources to everyone is partly due to the current state of the economy. We want people to realize that you can still be a power player in the real estate industry without the approval of the banks. At the end of the day, it's not about whether or not the bank says you can take part in this extremely lucrative industry, it's about whether or not YOU decide to take part in it."
Mr. Arnold is quick to stress that Private Money Exchange is not a payday loan agency. Instead, it simply serves as a large source of capital for the borrowers and has networked with strategic partners throughout the entire country to provide its customers with a large number of deals. The agency is built on fifty years of combined legal as well as real estate acquisition and funding experience, making it the perfect matchmaker between funding and deals.
Those looking to try Private Money Exchange's services should contact Representative Robert Singleton for additional information or visit Private Money Exchange's website here.