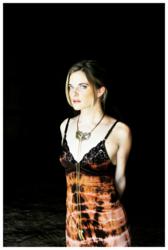 Santa Fe, NM (PRWEB) October 01, 2012
Suzanna Choffel, a 2002 alumna of the College of Santa Fe (now Santa Fe University of Art and Design), was featured on the Sept. 24 episode of season 3 of NBC's The Voice, where she secured a place on country singer Blake Shelton's team.
The popular vocal competition hosts blind auditions of "the strongest vocalists from across the country," where four celebrity coaches—Christina Aguilera, Cee Lo Green, Adam Levine and Shelton—must choose singers for their team based solely on their singing ability. For her audition, Choffel chose to sing the Fleetwood Mac classic "Landslide."
"Suzanna Choffel's performance on The Voice was a mature, polished and refined version of her as a student at the university," said Polly Tapia Ferber, a faculty member in SFUAD's Contemporary Music Department who taught Choffel. "It is exciting to know that her amazing talent, beauty, warmth and poise, and her drive to be the musician that she is, have risen to such a high level. She makes us all very proud."
Choffel, a singer and songwriter originally from Austin who currently lives in New York City, also plays a variety of instruments, including the guitar, piano, ukulele and harmonica. She has said her influences range from "Erykah Badu and Feist to Bebel Gilberto and Marie Daulne." Rock music critic Jim DeRogatis describes Choffel's musical style in a Chicago Sun-Times blog post as "equal parts Beat poetry, smoky soul grooves and indie-pop eccentricity."
"The most interesting prospect [on Blake Shelton's team this season] is Texan singer Suzanna Choffel, who is one of perhaps three contestants who've taken a subtle approach (rather than the judge-preferred soulful yelling) this season," wrote Rolling Stone reporter Jessica Hopper.
After the blind auditions, Choffel and the other vocalists will compete in a "battle phase" as well as live performance shows. Throughout the season, coaches will eliminate members of their own team during the battle phase, with the public weighing in during live performances by voting for their favorite vocal talent they think the coaches should save. For more information about the competition and its format, visit The Voice website.
For more information about Choffel, visit her website at http://www.suzannachoffel.com or follow her on Twitter via @SuzannaChoffel.
About SFUAD's Contemporary Music Department:
The Contemporary Music Program at Santa Fe University of Art and Design educates students in contemporary and classical music, world music, digital technology and recording techniques, with a heavy emphasis on performing and community involvement. Throughout the year, students have the opportunity to tour, reaching different audiences and enriching not only their academic experience but also their ability to communicate through original compositions, their instrument and their voice.
About Santa Fe University of Art and Design:
Santa Fe University of Art and Design is an accredited institution located in Santa Fe, New Mexico, one of the world's leading centers for art and design. The university offers degrees in arts management, contemporary music, creative writing, digital arts, graphic design, moving image arts (filmmaking and video production), performing arts, photography and studio art. Faculty members are practicing artists who teach students in small groups, following a unique interdisciplinary curriculum that combines hands-on experience with core theory and prepares graduates to become well-rounded, creative, problem-solving professionals. As a Laureate International Universities Center of Excellence in Art, Architecture and Design, the university boasts an international student body and opportunities to study abroad, encouraging students to develop a global perspective on the arts. Santa Fe University of Art and Design is accredited by The Higher Learning Commission and a member of the North Central Association, http://www.ncahlc.org.
# # #