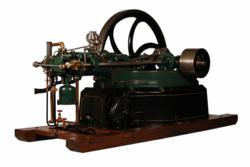 People will remember this auction for decades - it is like going to a museum and having a chance to buy!
Kempton, PA (PRWEB) October 03, 2012
For almost a year, thousands of the most important antique tractor collectors from across the nation and around the world and also representatives from museums - US and foreign - have been making plans to travel to a tiny community in the picturesque hills of Berks County, PA on October 5 & 6 to find Lakeside Farms, for an opportunity view and bid on a collection of antique tractors and stationary engines - many 100+ years old - unrivaled in condition and rarity. However, the only people who don't seem to know about this event or even the existence of the collection, are the people in Berks County, PA.
While this is not the largest antique tractor collection by number, the quality is regarded by those in the know as unsurpassed; making this a worldwide event and promising to set world sales records. Although at least 1,000 hopefuls will be in attendance and bidding, multiples of that number will be watching and bidding on simulcast through the web site of the auction company: http://www.aumannauctions.com.
This collection is so important that Aumann Auctions, Inc. of Nokomis, IL created a hard-backed coffee table book of a brochure that will become a collector's item in itself and the first ever interactive web-based catalog for users to see and hear these unique antique tractors and engines run. For examples of the rarities: the 1912 International Mogul 45 is in pristine original condition and restored to mechanical perfection. There is a Crossley Engine built in 1888 that is probably the only one you will see outside of a museum and a 1911 Gruber Box Wagon that was built less than 30 miles from the site of the auction.
So, Berks County, if someone with an Australian or German accent stops to ask the location of the Lakeside Farms antique tractor auction, please say: "8755 Utt Road, Kempton, PA 19529" and, well..... hey, if a guy can come all the way from Switzerland, maybe the locals can come see what all the excitement is about, too. The auction will be starting at 10 AM on both Friday and Saturday and for eveyone who doesn't have 6 figures for a world renown antique tractor or stationary engine, there are farm antiques, antique gas pumps, antique signs - something for everyone and an event the whole family will always remember.