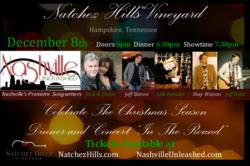 "We believe music reaches people deeper when presented in a memorable setting and that it's much warmer for an Artist to perform "surrounded" by their audience rather than performing "to" them from a stage". Diane of Nashville Unleashed
Hampshire, TN (PRWEB) October 02, 2012
Two celebratory Nashville Unleashed Christmas Concerts will be presented by Natchez Hills Vineyard on Saturday, December 8, 2012 and Saturday, December 15, 2012, in the Vineyard's Concert Hall located on the property at 109 Overhead Bridge Rd (off Hwy 412), Hampshire Tn 38461. This will be the prelude to ongoing Saturday evening Nashville Unleashed weekly shows, which officially begin January 12, 2013. Live video production will take place during each concert. Show will be packaged for 2013 network/online airing.
Tickets for both the Christmas Concert and the ongoing weekly Concerts will range from $40/VIP Seating to $25/General Admission Seating and are available for purchase securely online via Ticketleap at NashvilleUnleashed.com or NatchezHills.com
Seating is limited to 100. Dinner is included in the ticket price. Wine may be purchased, by the bottle, on site. Beer and soda will also be available for purchase by ticket holders. Parking is complimentary and plentiful. Luxury overnight accommodations are available via advanced reservation only by calling 931.285.2500. Shuttle service for Middle Tennessee residents is also available.
Ticket holders can expect to arrive and be greeted at the tranquil and transcendental vineyard tucked just off the scenic Natchez Trace Parkway. They will be escorted into an elegant, candle-lit concert center with cypress and stone adornment, where they will be seated for a gourmet dinner, complete with old-world, handcrafted, signature wine from the vineyard.
A unique concert, which includes Jack and Diane and alternating members from their extraordinary Roster of 35 accomplished, Performing Songwriters, will be presented. Listeners are taken on a journey of song, spanning musical genres of Pop, Country, Soul, Blues and Smooth Jazz, among superior musicianship. The concert is intimately staged to give each ticket holder a personal experience, guaranteed.
Although the show takes place in a romantic setting, which will appeal to women, there is also plenty of testosterone-laden moments for the men. For instance, the Nashville Unleashed stage set is comprised of wood from the original Opryland Hotel and Harley-Davidson custom chrome pieces. Men also seem to appreciate Jack's vintage instruments, like his 1973 Fender Lap Steel that he tastefully incorporates into the show's acoustic style. With the versatility of musical genres on each show, there's certainly room for Jack to show-out with this beauty.
Music lovers rightfully revere long-running concert productions like Austin City Limits, VH-1 Storytellers and the Grand Ole Opry. Along that idea, accomplished Nashville musicians/songwriters, Jack & Diane Untz, began a journey 4 years ago to honor these concepts, yet offer a more connective experience from the audience perspective; something that could be "felt" as well as "seen and heard", leaving a more lasting impression. So, they set out to create Nashville Unleashed and have garnered rave reviews, presenting the show to audiences all over the country.
Nashville Unleashed has been presented in a Performing Arts Theater and luxury Resorts around the country; most recently Loews Vanderbilt Hotel, exclusively, for all of 2012. A winter renovation of Loews, which will interrupt the concert series, preceded the decision to move to Natchez Hills Vineyard.
This is deemed by all involved to be a natural fit and right, next step, as fine wine and cuisine have always been an integral part of a Nashville Unleashed show. Jack and Diane feel they have found kindred spirits in Vineyard owners, Jim and Karen Odom, and are excited about realizing a common dream.
"When we came to Middle Tennessee in 2008, our vision was to create a unique and organic destination experience pairing our two passions of wine and music. Now that the Vineyard is lush and vibrant and Nashville Unleashed is home at the Vineyard, the circle is complete," Jim Odom of Natchez Hills Vineyard.