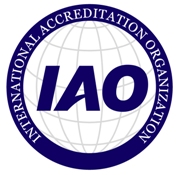 Dubai, UAE (PRWEB) October 17, 2012
IAO, a globally-renowned accreditation agency, as an educational epicenter and is playing a crucial role in promoting quality education internationally, having granted accreditation to education providers around the world.
Over the past couple of years, many educational institutions have sought to acquire IAO's international accreditation because of the former's giant strides in improving their curriculum, methods of teaching, benefits and facilities as well as the overall academic environment. This is a huge achievement for these institutes as having been accredited by a prestigious accreditation body will help increase their credibility among students and professionals. More than 250 education providers in the Middle East are now the proud members of the IAO's global network and the number is constantly increasing.
Educational institutions in the Middle East applying for IAO's accreditation not only offer quality education and a variety of specializations, but also a learning-oriented environment. However, they are aware of the impact of IAO's international accreditation witnessing substantial increase in IAO accredited education providers' student enrolment rates and also ensuring that the credit hours of students are easily transferrable to other institutes abroad and their degrees are accepted globally. Therefore, they find it important to obtain IAO's accreditation and enjoy the same success in the Middle East. They are also restructuring their education system in the light of the IAO's recommendations for improvements communicated through both its Points Profile System and Quarterly Recommendation Reports. These recommendations are helping institutions to improve their study programs, systems and processes, thus increasing alumni rate and eventually upgrading their points profile system.
A number of leading universities and institutes in the Middle East, such as Al-Faisal Academy, Al-Balqa University and Aalia for Early Intervention School, are immensely benefiting from IAO's International Accreditation in terms of a competitive edge over all other regional and international educational institutions, increased enrolments and international recognition of the degrees and credentials by reputed institutions and organizations.
Mr. Rafi Samardjian, President of Management Mix, a leading training organization in the Middle East and the CIS countries, said, "We are very proud to be a part of the IAO and we strongly believe that IAO has the required expertise to standardize the executives training and competency development educational environment internationally."
"Today, education providers in the Middle East are keen on improving their offerings and building their image and goodwill, both regionally and globally, so that students don't have to move abroad for studies and have decent academic choices at home. IAO's international accreditation serves to boost their credibility and reputation, encouraging other educational institutions in the region to seek the same," IAO's spokesperson said during his visit to one of the educational institutes.
IAO grants accreditation through its patented Points Profile System, evaluating candidates on the best global practices in Organizational Management, Academic Management & Institutional Performance. This Points Profile System helps the education providers clearly understand their strengths and weaknesses, whereas the Quarterly Recommendation Reports IAO provides enables education providers to constantly review and upgrade their education system.
About IAO
IAO is an international quality assurance agency, working to improve quality assurance standards all over the world. It operates globally, granting accreditation to institutions, universities, schools, professionals, students & corporations. IAO has a presence in over 180 countries, with a workforce of over 100 qualified professionals. IAO has also formed alliances with numerous regional accreditation bodies and its accreditation standards are also recognized by different global quality assurance agencies.