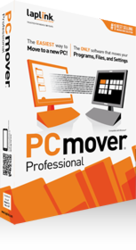 BELLEVUE, Wash. (PRWEB) October 03, 2012
Laplink Software, Inc. today announced that its new version of PCmover®, designed to make it as easy as possible to set up a new Windows® 8 PC, will be released on October 23.
For several years, PCmover has been the number one selling application for PC-to-PC migration and the only software that automatically moves files, settings, and even programs from an old PC to a new one.
"This release of PCmover sets a new standard," declared Thomas Koll, Laplink's CEO. "We support all transfer scenarios: upgrading an existing PC to Windows 8, restoring from a hard drive or image, or moving from an old PC to a new one. In addition, our Free Transfer Assistance, where we provide a trained professional to assist or actually perform the transfer remotely, is available 24/7. Nobody has ever made it this easy to set up a new PC."
PCmover supports all Windows 8 upgrade scenarios, whether moving to a new PC or upgrading an existing one. Microsoft only provides support for a few limited scenarios and does not provide any solution for transferring applications to a new PC.
"Upgrading to Windows 8 will be a nightmare for many consumers," continued Koll. "PCmover will support all users with the added benefit of our new remotely-assisted, phone-based Free Transfer Assistance. We want to be sure everyone has the best experience possible in their move to Windows 8."
The Windows 8 version of PCmover is available for presale at http://www.laplink.com/pcmover8 at a 50% discount until its official release on October 23, including the following "editions" that correspond to different user scenarios:

PCmover Professional: Perfect for any user or situation; presale price of $29.95.
PCmover Home: Designed to meet the needs of most consumers; presale price of $19.95.
PCmover Windows 8 Upgrade Assistant™: The only way to perform a complete upgrade of
an existing PC to Windows 8; presale price of $14.95.
According to Laplink's research on PC buyer habits, one in every five PC buyers are so concerned about the new PC setup process that they will actually put off buying a new PC. The top concern has little to do with the hardware or operating system, but rather the anxiety of how to transfer everything – including programs – from the old PC to the new one.
For consumers, PCmover saves an entire weekend of PC setup and configuration tasks, reducing the PC setup process to just a few mouse clicks. All e-mail, address books, pictures, music, videos, and even programs like iTunes and Microsoft Office are automatically copied over from the old PC and installed, ready-to-use, on the new PC.
For businesses, PCmover Enterprise promises IT departments the ability to manage migrations even for unmanaged PCs, with studies demonstrating savings of more than $300 for each PC upgraded or deployed. Migrations using PCmover for remote offices, subsidiaries, and non-standard PC rollouts that do not follow standard IT processes can result in cost savings in excess of $1,000 per PC replaced or upgraded.
"We believe that PCmover is simply the best migration solution available," said Randy Clark, Laplink's COO. "But we're committed to making it faster, better, and cheaper. This new version is all of the above – and fully compatible with Windows 8."
Laplink expects this release of PCmover to be the most popular ever and deliver the following benefits:
Faster: With improved transfer speeds and a streamlined user interface, PCmover now delivers the fastest migration experience available.
Better: With updated error-checking, a more intelligent transfer engine, and the availability of hands-on (remote-control) or over-the-phone Free Transfer Assistance, the best migration solution on the market just got better.
Cheaper: With presale pricing available now, consumers can purchase PCmover for less than $15. Businesses will generally need PCmover Professional or Enterprise, which have multiple-license purchases available at substantially reduced pricing.
PCmover is available at http://www.laplink.com and most software retailers throughout North America, Europe, and Japan and comes with a full money-back guarantee from Laplink.
About Laplink Software, Inc.
For nearly 30 years, Laplink has been the leader in consumer and enterprise software for Windows migration and refresh projects, disk imaging, file synchronization and more. The privately-held company was founded in 1983 and is headquartered in Bellevue, Washington.
For more information about this release, please contact:
Laplink Software Press Contact
Rob Schaper, Director of Marketing
press(at)laplink(dot)com
+1-425-952-6046