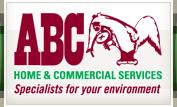 San Antonio, Texas (PRWEB) October 18, 2012
ABC Home & Commercial Services' San Antonio branch announced a new offer that will assist residential and commercial customers with obtaining high-quality pest control services from an established, family-owned company. The $40 coupon that is now available on the company's website makes rodent control in San Antonio more affordable.
The coupon allows clients to receive $40 off of ABC Home & Commercial Services-San Antonio's Signature Rodent Agreement. The service involves a thorough evaluation of the infested area to determine how rodents have gained access to the premises. Any access points that are detected during this process will be promptly sealed to keep the rodent infestation at bay.
Any conditions present on the premises that may welcome rodents will be identified and eliminated. Traps are installed in the initial visit and checked for rodents in subsequent visits. Customers can be assured that the service will be successful because of the one year warranty that is offered with the Signature Rodent Agreement.
Rodent control is just one of the San Antonio pest control services offered by ABC Home & Commercial. Other service offerings include termite and bed bug extermination, lawn maintenance and landscaping services, heating and cooling installation and repair, plumbing and electrical services.
To find out more about this offer and to view additional offers, visit ABC San Antonio's coupon page: http://www.abchomeandcommercial.com/sanantonio/about/coupons.php
About ABC Home & Commercial Services:
As a family-owned local business since 1949, ABC Home & Commercial Services cares about the people in the San Antonio community and are committed to delivering the highest level of customer service in all product areas. They strive to be environmentally responsible, professional, and to get the job done right the first time. Give them a chance to wow you with their customer-driven, superior service. Make ABC Home & Commercial Services the specialists for your environment today.