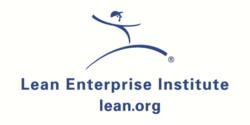 We must get better at showing the business benefits of lean.
Cambridge, MA (PRWEB) October 02, 2012
The Lean Enterprise Institute (LEI) invites lean practitioners and business managers nationwide to participate in a free webinar, "The Business Case for Lean," led by Michael Ballé, lean expert, Gemba Coach columnist, and co-author of The Gold Mine and The Lean Manager.
The free 60-minute webinar and Q&A session with Ballé takes place on Wednesday, Oct. 10 at 2 p.m. EDT. Participants will learn to effectively communicate with their CEO, senior leaders, and finance executives about:

How the lean effort supports the sales plan
How lean activities contribute to the bottom line
How the lean transformation dramatically improves the company's cash position
How lean favorably impacts investments.
To register for the free webinar, go to http://www.lean.org/events/oct_10_webinar.cfm
The webinar is a preview of Ballé's full-day workshop, "Making a Business Case for Lean," which is sponsored by LEI.
Date: Tuesday, Nov. 6, 2012
Location: Royal Sonesta Hotel Cambridge in Cambridge, MA.
Cost: $800
For more information about the workshop, or to register, visit
http://www.lean.org/Workshops/WorkshopDescription.cfm?WorkshopEventId=124&WorkshopId=75
"Executives continuously ask about the Return on Investment (ROI) of lean programs," said Ballé. "We must get better at showing the business benefits of lean. That's where I can help."
Ballé will discuss:

How to link the P&L statement and budget with lean activities on the shop floor (or the engineering office, or any other value stream)
How lean practices multiply a company's value over four to five years
Tips for building teamwork between lean experts and top executives
Why calculating ROI on a lean effort doesn't make sense, and how to explain to senior managers the calculation that does
As a managing partner of ESG Consultants, Ballé coaches executives in obtaining exceptional performance using lean tools, principles and management attitudes. His main coaching
technique is the "Real Place Visit," helping senior executives learn to see their own operational shop floors, teach their people the spirit of kaizen and draw the right conclusions for their business as a whole. He assists manufacturing, engineering, construction, services and healthcare companies.
Lean Enterprise Institute
Lean Enterprise Institute (LEI), Inc., founded in 1997 by management expert James P. Womack, Ph.D., is a nonprofit research, education, publishing and conference company with a mission to advance lean thinking worldwide. We teach courses, hold management seminars, write and publish books and workbooks, and organize public and private conferences. We support other lean initiatives such as the Lean Education Academic Network, the Lean Global Network and the Healthcare Value Network. Lean Enterprise Institute and the leaper image are registered trademarks of Lean Enterprise Institute, Inc. Learn more at http://www.lean.org.