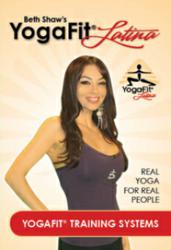 Los Angeles, CA (PRWEB) October 03, 2012
YogaFit® continues to pioneer mind body fitness education and is changing the face of yoga around the globe by offering a bi-lingual instructional DVD for Spanish speakers. The DVD was created to cater to the growing latino population practicing yoga. YogaFit® Latina incorporates the YogaFit® basics into a simple yet challenging routine with instruction offered first in English followed by the Spanish translation. The DVD is also a helpful tool for non-Spanish speaking teachers to expand beyond English speaking students. YogaFit® Latina is now available on DVD at http://www.yogafit.com.
ABOUT YOGAFIT® LATINA
Pioneered in response to great demand by international yoga expert, Beth Shaw, YogaFit® Founder and President, YogaFit® Latina is a fun and challenging workout including everything you need to practice yoga. Features include the key elements of YogaFit®: The Essence, The Seven Principles of Alignment, 3-Mountain Format, Transformational Language and Foundational Poses. It follows a flex and flow format, appropriate for those new to yoga as well as those who have a seasoned practice.
DVD DETAILS
TRT: 48MIN
STREET DATE: AVAILABLE NOW
GENRE: Yoga/Instructional in English and Spanish
SRP: $15.95
DVD CATALOG NUMBER: DV030
UPC: 694143020362
ABOUT YOGAFIT® TRAINING SYSTEMS WORLDWIDE
YogaFit® Training Systems Worldwide was established in 1994 and has since trained over 100,000 yoga and fitness professionals worldwide. The leader in mind body fitness education, YogaFit® is the largest training school for yoga instructors in North America with further expansion internationally. YogaFit® is the American Council on Exercise's (ACE) premier and only yoga partner. Founder and President, Beth Shaw, in internationally recognized as the foremost authority on yoga and fitness having been profiled in print publications and television programs including, Oprah's O Magazine, CNN, The New York Times, USA Today, Entrepreneur, SELF and more. YogaFit® is committed to community service as well as supporting animals and humanitarian causes. For more information, visit http://www.yogafit.com.